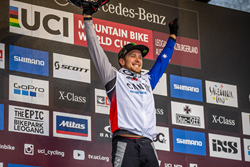 As much as I'm not getting wins, I'm being consistent and I'm happy with that. Now I have two weeks at home and I'm just going to chill, recover, and get some training in so I can come back to Andorra and Les Gets and smash it. - Troy Brosnan
LEOGANG, Austria (PRWEB) June 10, 2019
Monster Energy's Troy Brosnan (AUS) retained his World Cup overall series lead with a 3rd place finish today at the World Cup in Leogang, Austria. Fellow Monster Energy teammate Danny Hart (GBR) took 4th place in Austria and sits in fourth place for the overall World Cup series. Monster Energy's Amaury Pierron is in second place for the overall World Cup series.
Traditionally a "bike park" style track, the organizers here in Leogang rebuilt numerous parts of the track this year, adding quite a few natural, raw dirt sections that would keep riders honest and help to slow down what was becoming a frighteningly fast freeway of a race course. With racing going down under blue skies and blazing sunshine, it was quite the change from the monsoon like conditions of last weekend in Scotland. New raw sections of track, bike park jumps and gravel pathways tested not only physical and technical strength, but also the rider's ability to max out their heart rate and get on the pedals for sustained amounts of time.
Leogang is a track where time is money and the slightest drag of the brakes or small error can take the riders off the podium pushing the competitors to stack up on the same second of the clock. Brosnan missed the winning score by a mere +0.746, which landed him in third place.
Brosnan was thrilled with his result and excited to leave Austria with the coveted #1 plate leading the World Cup series. "It's amazing," said Brosnan. I knew I had a really good shot at the win and did everything I could. I was right there. As much as I'm not getting wins, I'm being consistent and I'm happy with that. Now I have two weeks at home and I'm just going to chill, recover, and get some training in so I can come back to Andorra and Les Gets and smash it. Honestly with how I'm feeling, how my bike is running and the two tracks coming up, I'm ready to start winning."
Hart was more than happy to secure 4th place on a track he normally does not do very well on. "I am happy with my run because this is probably my most limited round. I'm happy to be on the podium and still in the overall battle. It's going to be close again so I'm happy with it. I think it's the best result I have ever had here so if I carry on like I did then we should be good. Everything is working well and the team is good so I am happy with how it's going to move on from here. I guess the changes they made [to the track] worked out well in the end and it was decent to ride. I think I had some really good splits and lost some from the middle down. When it comes to the motorway here there is not much I can really do besides what I did."
Everyone will go home now for a few weeks off before heading to UCI World Cup in Andorra which is regarded as one of the most exciting races of the year in an already fiercely fought season and takes place on July 6-7.
Download photos for editorial use.
For more on Brosnan, Hart, Pierron and the rest of the Monster Energy team visit monsterenergy.com and make sure to follow Monster Energy's Facebook, Instagram & Twitter for exclusive updates.
About Monster Energy: Based in Corona, California, Monster Energy is the leading marketer and distributor of energy drinks and alternative beverages. Refusing to acknowledge the traditional, Monster Energy supports the scene and sport. Whether motocross, off-road, NASCAR, MMA, BMX, surf, snowboard, ski, skateboard, or the rock and roll lifestyle, Monster Energy is a brand that believes in authenticity and the core of what its sports, athletes and musicians represent. More than a drink, it's the way of life lived by athletes, sports, bands, believers and fans. See more about Monster Energy including all of its drinks at http://www.monsterenergy.com.