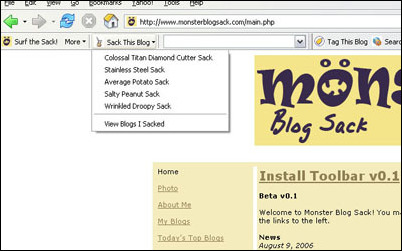 Colossal Titan Diamond Cutter Sack
Brooklyn, NY (PRWEB) August 30, 2006
Do you like to surf around the web and read blogs from time to time? Do you have a blog and are looking for more readers that might be interested in what you're writing?
A new website, Monster Blog Sack (http://www.monsterblogsack.com) has been released this month. What's unique about this website is the toolbar for the Mozilla FireFox browser. You can choose which languages you speak and categories that interest you and simply click on the "Surf the Sack!" toolbar button to randomly surf blogs that you're interested in.
Users currently have the option to sack, tag, search, add to favorites, and share blogs with friends. Sacking blogs allows a user to rate and add a blog to the MBS database. You can sack a blog into five different sacks, from "Colossal Titan Diamond Cutter Sack" to "Wrinkled Droopy Sack." Users can see how other users rate a blog.
Gregory Rzeczko, the founder of Monster Blog Sack, says he spends a lot of time "Surfing the Sack!" "I am discovering great new blogs everyday," says Rzeczko, "Lately I've entered a few interesting contests from blogs I found by 'Surfing the Sack!' and read great information about all sorts of topics. It's like a magazine but on the Internet."
Presently, there are over 200 members surfing the sack around the globe. Anyone from around the world can register. Rzeczko says he has a lot planned for the future of the website. He writes his own blog to keep users posted of new releases, the progress, and any news of Monster Blog Sack. You can view the Monster Blog Sack Blog at http://www.monsterblogsack.com/blog/
# # #