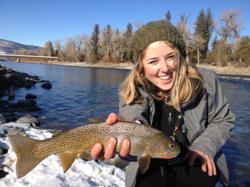 The fish are hungry after a long winter and look forward to a bigger source of protein.
Bozeman, MT (PRWEB) March 28, 2013
Guides at Montana Angler Fly Fishing have been reporting on the rising water temperatures and the long awaited Skwala hatch. The water temperatures are getting above 40 degrees, so those Skawlas are starting to emerge and the trout are coming alive. The Skwala is a type of stonefly who's life cycle is about a year long. Like most stoneflies and they spend most of their life underwater in the oxygenated midstream riffles. They are currently starting to mature and are moving to the edge of these riffles where they can emerge as adults and mate- a fisherman's and trout's idea of heaven.
The Skwala hatch can be found in numerous states across the west, but the epicenter is in Montana on the Bitterroot River. The Bitterroot River runs 75 miles through the Bitterroot Valley and holds some of the best Skawala fishing in the world. According to Brian McGeehan, outfitter for Montana Angler and a seasoned fly fishing guide, "the Bitterroot River has already started to kick it into high gear and and the small stoneflies are showing up on other rivers around the state. There has been just the right amount of snow pack and the water temperatures are steadily rising so the fishing should be good for the next few weeks".
"One of the best chances all year to get a 20 plus inch trout to rise on a dry is during the Skawla hatch, the fish are hungry after a long winter and look forward to a bigger source of protein" says Montana Angler guide Tony Nahorny. He has fished the Skwala hatch for many years and reported that 8-12 size stoneflies colored olive or dark brown are the best flies to use. Big dark colored simulators also will work.
The Bitterroot is the most famous river for the skwala hatch and many anglers target it in the early spring but the stoneflies occur in smaller numbers on most rivers across Western Montana. Montana Angler Fly Fishing (http://www.montanaangler.com) offers fishing lodge packages across Montana.