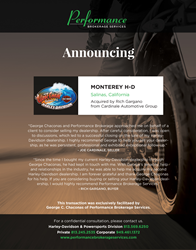 He was able to help me acquire my second Harley-Davidson dealership. - Rich Gargano
Irvine, California (PRWEB) June 08, 2017
Performance Brokerage Services, a new car and Harley-Davidson dealership broker is pleased to announce the sale of Monterey Harley-Davidson in Salinas, California and its Alternate Retail Outlet on Cannery Row from Cardinale Automotive Group to Rich Gargano. Cardinale Autmotive Group is now comprised of 16 new car dealerships offering brands such as Acura, Audi, BMW, Genesis, GMC, Hyundai, Mazda, Nissan, Toyota and Volkswagen as well as a used car dealership. Joe Cardinale decided to divest of his interest in the Harley-Davidson franchise and focus his attention on the automotive franchises. Joe Cardinale commented, "George Chaconas of Performance Brokerage Services approached me on behalf of a client to consider selling my Harley-Davidson dealerships. After careful consideration, I was open to discussions. I highly recommend George Chaconas to help you sell your dealership, as he was persistent, professional and exhibited exceptional follow-up.
Rich Gargano purchased House of Thunder Harley-Davidson in Morgan Hill, California in 2015 through George and Performance Brokerage Services. Rich again hired George to take a run at purchasing Rich's competing Harley-Davidson dealership, Monterey Harley-Davidson. Located just 35 miles from House of Thunder Harley-Davidson and Rich's home base, Monterey Harley-Davidson was a perfect strategic acquisition for him. The Alternate Retail Outlet also allows Rich the right to sell Harley-Davidson merchandise, apparel and gifts on the historic Cannery Row in Monterey. Following the purchase, Rich Gargano shared, "I reached out to George Chaconas of Performance Brokerage Services to see if he could help me purchase a contiguous Harley-Davidson dealership in order to grow my business. With his help and tenacity, including his relationships in the industry, he was able to help me acquire my second Harley-Davidson dealership."
Monterey Harley-Davidson will operate under its new name West Coast Harley-Davidson and will remain at its current location at 333 North Main Street in Salinas, California 93901.
George C. Chaconas, the exclusive agent for this transaction and the head of the National Harley-Davidson and Powersports Division for Performance Brokerage Services commented, "It was a pleasure working with such gentlemen in this transaction. I am honored to be a part of Rich's growth and wish him continued success."
About Performance Brokerage Services
Performance Brokerage Services, an auto dealership broker, specializes in professional intermediary services to buyers and sellers of automotive, Harley-Davidson and Powersports dealerships.
The company offers a different approach to the automotive, Harley-Davidson and Powersports industries by providing complimentary dealership assessments, no upfront fees, no reimbursement of costs and is paid a success fee only. Performance Brokerage Services gets paid only after the client gets paid.
With over 25 years of experience, the company utilizes an extensive network of industry related accountants, attorneys, hundreds of registered buyers and enjoys longstanding relationships with most of the auto manufacturers and the Harley-Davidson Motor Company. The intermediaries at Performance Brokerage Services have been involved in well over 600 transactions. Pledging loyal and unwavering representation, confidentiality is vigilantly protected during the selling process and after the transaction closes.
With corporate offices in Irvine, California, four regional offices in Utah, Florida, Texas and New Jersey, and a dedicated Harley-Davidson and Powersports Division, Performance Brokerage Services provides its clients national exposure with local representation. For more information about the services offered by Performance Brokerage Services, visit https://performancebrokerageservices.com.