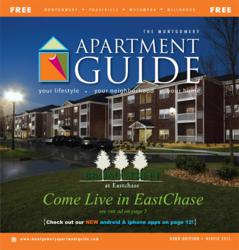 Planning your search for a new apartment home and driving around town with a map is a thing of the past. With today's mobile devices people have all the information they need at their fingertips, and we make sure our clients have access to that as well
Montgomery, AL (PRWEB) April 01, 2013
Most people today live a fast-paced, mobile lifestyle, which includes daily interaction on at least one top social media site, and people expect to be able to do everything from their mobile devices just as easily as they do from their computers. Keeping up with today's technology, The Montgomery Apartment Guide has launched a mobile web site and iPhone and Android applications that empower renters looking for an apartment home to browse communities, review floor plans, find current rental rates, get directions and more, all while on the go.
The print edition of The Montgomery Apartment Guide is distributed to over 400 locations and lists over 70 of the best apartment communities in the area, including sections for affordable housing, tax credit and senior living. With over 55,000 copies printed per a year and its vast online presence, the guide is offering its advertisers more exposure than ever, and apartment hunters in the Montgomery Metro area are getting the information they need without interupting their fast-paced, mobile lifestyle. The mobile site for MontgomeryApartmentGuide.com is a simplified version that offers the most-used features of the full web site and is compatible with most popular mobile phones and devices.
"Planning out your search for a new apartment home and driving around town with a map is a thing of the past. With today's mobile devices people have all the information they need at their fingertips, and we make sure our clients have access to that as well," said Kim Mulkey, Managing Editor for The Montgomery Apartment Guide.
With users creating buzz on all of the social media sites about the best areas and communities to live in, sometimes the perfect home falls right into the apartment hunter's hands...or news feed. The Montgomery Apartment Guide is active on Facebook, Twitter and Instagram, and they have just announced that they exclusively represent the Montgomery Metro area on the national web site ShopApartments.com.