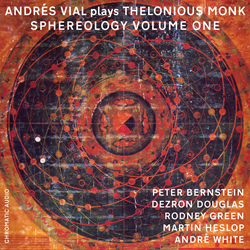 Monk tunes are already perfect. Of course you don't only want to play Monk voicings the whole time; you have to find your own way to play the tune.
RICHMOND, Calif. (PRWEB) August 24, 2018
Pianist Andrés Vial (pronounced Vee-al) launches a series of recordings offering new perspectives on the oeuvre of Thelonious Sphere Monk with the September 28 release of "Sphereology Volume One" on Chromatic Audio Records.
It's a project the Montreal native has been working on since 2005, when he organized an annual Thelonious Monk Festival in Montreal. "My band played four nights of Monk's music there," says Vial. "I transcribed about 50 of his tunes for those gigs, and the festival ran for four years."
Sharing the front line with Vial on the new album, his fourth, is guitarist Peter Bernstein, who released his own critically acclaimed disc celebrating Monk in 2008.
Vial also employs two different rhythm sections: Bassist Dezron Douglas and drummer Rodney Green, mainstays of the New York jazz scene, appear on the first six tracks of the album, which was recorded in the fall of 2017, on the eve of the Monk Centennial. Bassist Martin Heslop and drummer André White, who have been Vial's Montreal rhythm section since Monk Fest, appear on the last three tracks of the album.
"I consider Peter one of the leading interpreters of Monk's music today," Vial says. "He's one of the rare people who if we're on a gig together, I can call a bunch of practically esoteric Monk tunes and he'll know them. Even though Monk is a hugely important part of the jazz canon, musicians usually only play about a dozen of his tunes. There are another 60 tunes that are very infrequently performed."
"Sphereology" introduces listeners to more obscure, rarely recorded pieces over familiar ones. The opening track, "Bluehawk," is a blues Monk only recorded once as a solo. In one of the few instances on the album where a song's groove has been changed from the original, Green uses the infectious New Orleans Second Line rhythm made famous by drummer Vernel Fournier on Ahmad Jamal's "Poinciana."
"I had a few simple arrangement ideas," Vial adds, "but I wasn't really interested in going into the studio with 10-page-long charts and lots of reharmonizations. I wanted to keep it loose and just dive in. The musical interaction that happens within the tunes is the important part."
The other nine tunes include "Coming on the Hudson," with its unique 18½-bar form and unusual chord progression, and—perhaps the most recognizable piece on the album—"Think of One," which is re-contextualized with an Afro 6/8 beat, shifting to swing on the bridge and the piano solo. "Ask Me Now" is a duo performance by Vial and Bernstein, and the little-known "Introspection" (composed in 1947) is the oldest Monk song on the album.
Born in 1979 in Montreal, Andrés Vial recalls sitting at the piano improvising songs as a child. He began taking lessons but wasn't interested in learning to sight-read. "I would listen to my teacher play the piece," he recalls, "and then basically learn it by ear instead of off the page." He also learned from the classical, Latin, and pop records he heard around the house.
When Vial was 11, his mother came home with a copy of John Coltrane's "Blue Train." "I was just floored," he says. "That was the record that really changed the course of my life, and I was obsessed with it for years to come." He joined his middle school and high school jazz bands and also began playing drums and vibraphone.
Vial studied jazz drums and classical percussion at Montreal's Vanier College before transferring to the New School in New York, earning a degree in jazz piano and studying with Bill Charlap, Hal Galper, Joe Chambers, and Buster Williams. Returning to Montreal, he immediately became active on the jazz scene as well as joining the Kalmunity Vibe Collective, a grassroots group of musicians from all over the world working within black musical forms. Through the collective, he met singer Malika Tirolien (Snarky Puppy, Bokanté) and joined her band (she appeared on his debut recording, 2007's Trio/Septet).
Vial's three previous albums—also including, "The Infinite Field" (2011) and "conception/oblivion" (2015)—reveal that he is not afraid to take risks. His fidelity to Monk's vision springs not from a lack of boldness, but from a recognition that it needs no elaboration.
"Monk tunes are already perfect," he says. "It's impossible to separate the melody from the rhythmic concept and chord voicings in each composition. Of course you don't only want to play Monk voicings the whole time; you have to find your own way to play the tune.
"I see it as a two-step process. One, go as deeply as you can into Monk's music, and two, figure out what you're going to do to bring your own voice to it. That's what the 'Sphereology' project is really about."