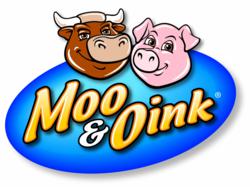 "It is an honor to participate in this long-standing Chicago event," said Dave Van Kampen, Chief Herding Officer of Moo & Oink. "We are proud to bring all the Moo & Oink products back to store shelves in Chicago and Northwest Indiana."
Chicago, IL (PRWEB) June 26, 2012
For the first time, Moo & Oink, LLC, participated in Real Men Cook, the Father's Day celebration of family, community and fatherhood at which "real men" cook up some delectable dishes and serious fun. The annual urban family food-tasting celebration benefits local nonprofit organizations.
The 2012 event took place on Sunday, June 17, at the Ray and Joan Kroc Corps Community Center, 1250 West 119th St., Chicago. The headlining entertainment was Kirk Whalum, the 2011 Grammy Award winning jazz saxophonist.
Moo & Oink donated 50 cases of rib tips, two cases of BBQ sauce, and five cases each of turkey mild links, hot dogs, Polish sausage, High Five beef patties, turkey burgers and beef hot links.
"It is an honor to participate in this long-standing Chicago event," said Dave Van Kampen, Chief Herding Officer of Moo & Oink. "We are proud to bring all the Moo & Oink products back to store shelves in Chicago and Northwest Indiana."
Real Men Cook also offered free health screenings, healthy cooking demo's career mentoring for teens, children's activities and free prize giveaways.
About Moo & Oink
Best Chicago Meat Co., LLC, purchased Moo & Oink's intellectual property at public auction on Dec. 14, 2011. The four Moo & Oink stores – three in Chicago and one in Hazel Crest - filed for Chapter 7 bankruptcy in late September, 2011. Because there were no bidders on the real estate, the stores will remain closed.
Purchased by Best Chicago Meat were Moo & Oink's name, logo, characters, website, commercial jingle and perhaps most important – its recipes.
Best Chicago Meat's commitment to customers goes well beyond delicious products, impeccably clean facilities and the highest standards in food safety. The company is proud to manufacture in a Chicago neighborhood and operates under a strict policy of energy conservation and waste reduction. At Best Chicago Meat, clean and green are fundamental.
In addition, the company is committed to the communities it serves by supporting activities such as youth sports programs, a high school intern program, community events and local and regional festivals. Best Chicago Meat stands strongly behind its customers by supporting local programs that promote family and neighborhood values.
For more information, call 773-523-8161 or visit: http://www.moo-oink.com