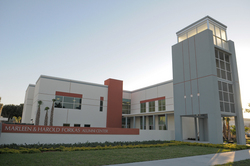 "It's with great pleasure that I return to FAU, which has grown so impressively since I attended. Interactive Marketing is a dynamic & evolving industry, so it's important to understand the landscape & opportunities available for businesses."-Leitch, EVP
Boca Raton, FL (PRWEB) February 16, 2011
MoreVisibility, a six-time Inc. 500/5000 nominee and one of the world's largest and most experienced search engine marketing and optimization (SEM/SEO) agencies, reaffirms its priority to educate their local community about the benefits of internet marketing. Today, MoreVisibility has announced that they will partner with Florida Atlantic University's National Alumni Association (FAUNAA) to conduct an Interactive Marketing Boot Camp on March 3rd, 2011 at the Marleen & Harold Forkas Alumni Center on Florida Atlantic University's Boca Raton Campus.
Participants will enjoy networking, food, and drinks beginning at 5:30 pm, followed shortly after by the seminar. Danielle Leitch, MoreVisibility's Executive Vice President and proud FAU Alumna ('93), will teach members how to increase their website's ranking within Google, Yahoo, Bing and more. Participants will learn why Social Media is important to businesses and how to properly analyze all online marketing efforts to increase ROI using Google Analytics, the world's leading web analytics platform.
The 90-minute seminar will cover:

The Search Engine Landscape - Google & beyond
How SEO works and tactics to improve your website's rankings
Tactics to leverage Facebook, Twitter, LinkedIn & YouTube as marketing channels
Google Analytics - What, Why & How it's an important business asset
Members of MoreVisibility are frequently asked to speak at conferences, tradeshows, associations, and universities around the country and welcome the opportunity to engage with those in their backyard. MoreVisibility is honored to be among only a handful of companies nationally recognized as a Google Analytics Certified Partner (GACP), and the only company in South Florida to have ten team members Google AdWords Certified. Danielle is proud to have the chance to give back to her alma mater and local community. "It is with great pleasure that I return to the FAU campus, which has grown so impressively since I attended. Interactive Marketing is a dynamic and evolving industry, so it's important to understand the landscape and opportunities available for businesses. I am happy to share my experience with others in the community. "
If you would like to attend the event, please register here: http://ow.ly/3UWWC
About MoreVisibility
Founded in 1999, MoreVisibility is one of the world's leading Search Engine Marketing, Optimization and Design firms, having helped hundreds of Fortune 1000 companies and small businesses increase qualified traffic to their Web sites. In 2005, 2006, 2007, 2008, 2009 and 2010 MoreVisibility was named to the Inc 500/5000 list of the nation's fastest growing privately owned firms. MoreVisibility is a Google AdWords Certified Partner, Google Analytics Certified Partner and a member of the MSN Search Council.
MoreVisibility boasts high client retention through a team of 30 senior professionals who deliver superior performance and measurable results. Notable clients served include Direct Marketing Association (DMA), Children's Hospital of Philadelphia, The Metropolitan Museum of Art, Dairy Council of California, RSM McGladrey, The Mayo Clinic, Travel Nevada, Ritz Carlton Residential Suites and Clemson University. The company is based in Boca Raton, Fla., and can be found on the web at http://www.MoreVisibility.com.
###