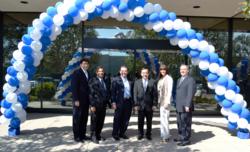 "We had very humble beginnings back in '07, but every anniversary since then has been marked by solid growth into a variety of new areas," said Morgan Drexen CEO Walter Ledda.
Costa Mesa, CA (PRWEB) March 14, 2013
Breakfast, balloons and big plans highlighted the sixth anniversary celebration for employees of Morgan Drexen Integrated Systems. The company, which began operations with five employees on March 14, 2007, treated its now 300-plus workers to a breakfast buffet to mark the occasion. After passing beneath a giant balloon arch adorned with the number "6," employees enjoyed an assortment of delectable offerings including breakfast sandwiches, pastries, freshly brewed gourmet coffee and orange juice. Those who came to work wearing the official blue-and-white Morgan Drexen colors were entered into a raffle to win special gifts designed just for the occasion.
"All the anniversaries are special," said Walter Ledda, Morgan Drexen CEO. "We had very humble beginnings back in '07, but every anniversary since then has been marked by solid growth into a variety of new areas. We now have more than 300 employees and they all deserve enormous credit for the company's success."
Morgan Drexen provides administrative support to attorneys who practice bankruptcy (including debt settlement), tax, personal, and litigation defense. The company's genesis in 2007 was in the debt settlement arena. Since its founding, Morgan Drexen has provided administrative support services to attorneys who have settled more than $418 million in consumer debt. The company's focus on efficiency has allowed attorneys to bring financial relief to nearly 12,000 people nationwide, many of whom may otherwise not have been able to afford the services of an attorney.
Rita Augusta, Chief Operations Officer for Morgan Drexen, was one of the company's "original 5" employees. She says the milestones are wonderful, but the company is fixated on the future.
This is an exciting time at Morgan Drexen," says Augusta. "We are growing, we have a clear vision of where we're heading and we think we're well-positioned to continue the success that began six years ago."
Morgan Drexen provides integrated software systems and administrative support services to businesses nationwide. Morgan Drexen's proprietary MDIS software improves workflow through the use of automated document management. In addition to computer technology, Morgan Drexen provides law firms and other businesses with marketing, marketing support, call centers, outsourced litigation support, databases, work-product retrieval systems and cloud-computing platforms facilitated by the company's outsourced support staff. Morgan Drexen employs more than 300 professionals out of its headquarters in Costa Mesa, CA.