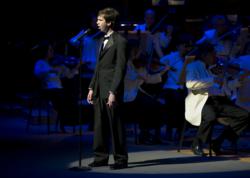 Costa Mesa, CA (PRWEB) March 01, 2013
A legally blind teenager used his soaring voice to win the second edition of Pacific Symphony's "OC Can You Sing" competition. 18-year-old Grant Yosenick, a USC music student from Laguna Niguel, edged out his three co-finalists following a series of performances February 14-16 at the Renée and Henry Segerstrom Concert Hall in Costa Mesa. The amateur performers sang in front of packed houses as part of the opening act for a three-night concert series by Grammy Award-winning jazz artist Kenny G. The four finalists, Brooke deRosa, Monty Linton, Amanda Strader and Yosenick, each had the opportunity to sing a song accompanied by Pacific Symphony. Audience voting determined the final winner, with Yosenick topping the final tally.
Born with a rare visual disorder that left him legally blind, Yosenick now earns the right to be a featured soloist during the first half of a future Pops concert with Pacific Symphony.
The four finalists also had the opportunity to enjoy the glitz and glamour often reserved for a major Hollywood premiere. Prior to the February 15 performance at Segerstrom Hall, Orange County company Morgan Drexen (http://www.morgandrexen.com) sponsored a red carpet event to promote Pacific Symphony and its efforts to boost appreciation and support for classical music in Orange County. The rising stars of the "OC Can You Sing" competition walked the red carpet alongside music-minded celebrities including Kenny G, pop singer Rebecca Black, actors Iqbal Theba and Patrick Gallagher of "Glee", and actress-singer Andrea Marcovicci.
In 2011, Cody Morgan was crowned champion of the inaugural "OC Can You Sing" competition. His victory led to a rare opportunity to perform with R&B legend Roberta Flack during a Pacific Symphony Pops concert. The contest took a year off last year, but resumed this season with immense interest and enthusiasm. Contestants were required to be amateur singers who are legal residents of Orange County or greater Los Angeles. To learn more about Pacific Symphony, visit http://www.pacificsymphony.org.