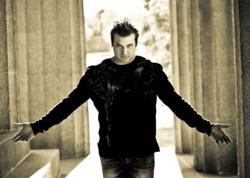 "I will donate $10,000 dollars to the charity of Angels choice, that's if Criss decides to follow through with the challenge."
Las Vegas, NV (PRWEB) September 11, 2012
Let the games begin...
Morgan Strebler "The Man Criss Angel Fears", master illusionist and internationally renowned mentalist, today has issued a brash, "no holds barred", public challenge to "Mindfreak" magician, Criss Angel.
Morgan has boldly declared; "Criss Angel likes to issue challenges to other magicians, but someone has to look out for the legions of loyal fans of legitimate magic. I'm tired of seeing them disrespected and subjected to "magic" that is long on camera tricks and short on talent!"
Now, Morgan is bringing one directly to Criss's doorstep! "Criss looks good when he performs in a controlled environment with multiple camera angles and creative editing. Let's see how well he does with head-to-head magic on a live stage, in the street, and strapped to a table for 24/7 Chinese water torture until one of us breaks. It will be done with just one camera, no split screens & both of us in full view at all times!" says Strebler.
For the finale of their proposed challenge, Morgan said he chose Chinese water torture because, "it is the ultimate, centuries old torture technique used to break down the strongest of men. The slow dripping of water onto the forehead has driven many victims insane. The relentless cycle of apprehension, tension, shock and relief eventually leads to a total breakdown."
Talking directly to Angel, Morgan ratcheted up the rhetoric by stating; "Criss, you're busy. I'm busy. So what? Call my management and let's work out the details. You like to issue challenges to others in the past David Blaine, and most recently to Dynamo. Now, the shoe's on the other foot! Don't duck this challenge because I won't stop until you answer. Remember, everyone's watching, Criss! "No!" is not an excuse. It's your admission of defeat, and to ignore my challenge is the ultimate insult to all magic fans around the world!"
Further more, Morgan asserted; "I will donate $10,000 dollars to the charity of Angels choice, that's if Criss decides to follow through with the challenge." Let the live audience see it. Let the television audience see it. Let the World Wide Web see it, let the whole world see it! No breaks! No intermissions! Who's better to monitor this competition than magic fans?! Let's both give our fans what they really want and deserve unfiltered, unedited magic talent and entertainment!"
Criss, Will you take the challenge?