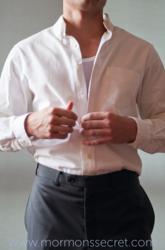 "...They make great role-playing attire for everyone, not just kinky Mormons." said Ann Jackson, ex-Mormon and founder of Mormon's Secret.
San Francisco, CA (PRWEB) September 13, 2012
Mormon's Secret today announced the launch of its controversial and satirical e-commerce site selling magical Mormon underwear for both men and women. It's the first and only site of its kind, and is expected to garner interest on an international level – because of the current political landscape and spotlight on Mormonism, and because it's the first time non-Mormons will be allowed to purchase temple garments without having to first become a Mormon.
Declared by the Church of Jesus Christ of Latter-day Saints (LDS) as sacred, magical, and holy, temple garments are now available to the masses as costume wear, fetish wear, and those just wanting to emulate the undeniable style and swagger of Mitt and Ann Romney.
Mormon's Secret sells real Mormon underwear for adults, following the authentic LDS patterns, heirloom stitching techniques, and traditional Masonic symbols hand-sewn on each garment. The underwear, also known as temple garments, are available in both tops and bottoms, and come in both cotton and mesh fabrics for men, and a cotton-spandex blend for women. Garments range in price from $32 to $46, include free shipping in the US, and are packaged with a satirical yet accurate description of the actual Mormon underwear initiation ritual that includes nudity, biblical references, and magical expectations.
The Website's modern design and sexy imagery intentionally serve as a stark contrast to the branding of the LDS Church, and the accidental Mormon shopper should be warned that not a penny of the site's profits go towards any type of religious affiliation or promotion. The site's founder Ann Jackson, an open ex-Mormon, Seattle native, and opportunistic entrepreneur, once worked as a fabric buyer for the LDS Church's Temple Clothing Division, and wants to capitalize on the recent growing trend and pop-culture fascination with her childhood religion.
"I can't deny the magical powers of these Jesus jammies. For me, as a repressed Mormon who got married as a teenager, the true magic was how horny they made me feel all the time," said Jackson. "Mormon's are only allowed to take the garments off during the three "S"s – sex, swimming and showering – but some of our customers even think it's fun to leave them on during sex. They make great role-playing attire for everyone, not just kinky Mormons."
Customers looking to purchase these as a witty, political Halloween costume for 2012 should act fast, as the Mormon's Secret supply is limited. For more information about Mormon's Secret or to buy real Mormon underwear online, please visit http://www.mormonssecret.com
###