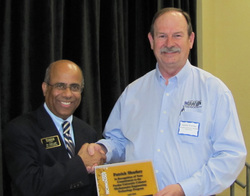 Pat Sharkey was a highly effective and valued member of the Morrison team and remembered for his knowledge, expertise and dedication to developing exceptional container handling solutions. He will be deeply missed by his colleagues, Morrison customers, and the faculty and staff of Purdue University Calumet, where he was actively engaged in furthering the new Mechatronics Program
Glenwood, IL (PRWEB) June 17, 2010
Pat Sharkey, Morrison Container Handling Solutions Automation Specialist, who enjoyed meeting the challenges of engineering packaging machinery and developing highly efficient container handling solutions, passed away on May 30, 2010, at the age of 59.
At Morrison, where he also worked as a Packaging Machinery Manufacturers Institute (PMMI) Certified Trainer, Pat Sharkey was responsible for providing customers with highly interactive and performance-based training to optimize line efficiency, employee safety and equipment reliability. He was actively involved in the development of the new Mechatronics Program at Purdue University Calumet, which is designed to train the next generation workforce for the emerging field of engineering technology combining mechanical design and electrical control for the packaging industry.
In April 2010, Sharkey was honored with an award from the School of Technology in recognition of his commitment to the Purdue University Calumet Mechatronics Engineering Technology Program. In addition, Pat Sharkey was recently appointed to the advisory board at Purdue University Calumet.
Pat Sharkey was employed by Morrison Container Handling Solutions, a leading manufacturer of timing screws, change parts and drive units for the packaging industry, from 2006 to present. Prior to joining the Morrison team, Pat Sharkey served the company as an independent contractor. From 2002 through 2006, Pat Sharkey and his wife, Peggy, owned and operated their own business, P-Squared, and before that, he owned and operated EMSCO beginning in 1998.
"Pat Sharkey was a highly effective and valued member of the Morrison team and remembered for his knowledge, expertise and dedication to developing exceptional container handling solutions. He will be deeply missed by his colleagues, Morrison customers, and the faculty and staff of Purdue University Calumet, where he was actively engaged in furthering the new Mechatronics Program," said Nick Wilson, Morrison president.
Dean of Purdue University Calumet School of Technology Niaz Latif said, "Pat has been an essential partner in the development of our Mechatronics Laboratory over the past year. He worked closely with our faculty members and students for system integration of industry-donated equipment and machinery, integrating it so that students can have meaningful hands-on experience that reflects industry practice. He was an integral part of our team and we were privileged to recognize his contributions at our annual Technology Day."
Akram Hossain, Purdue University Calumet School of Technology professor, added, "I can never say enough about Pat Sharkey's contribution to our Mechatronics Program, where one can see his contribution at every turn. Pat is the person who helped us wire the equipment donated by various PMMI members (most prominently Morrison) and commission them. He helped us after his normal work hours at Morrison, staying many times as late as 3AM. He not only helped us put together the equipment but also shared his enormous knowledge of motion control. Pat's technical and analytical ability coupled with his outstanding work ethic made him one of the most admirable people in my life. I can only say with a heavy heart that he will be missed."
Married to Peggy in 2002, Pat Sharkey lived in Steger, Illinois for most of his life.
He served in Vietnam with the U.S. Army from 1970 to 1974, and was active in the Steger community, serving on the Steger Plan Commission when he died. He was a past member of the Steger Kiwanis, electrical inspector in Steger, Steger recreation board member and coached a variety of sports programs. A life member of the VFW, Pat Sharkey also was elected as a member to the Steger School District 194 in 1991 and served for eight years, during which, for two years he served as president.
Pat Sharkey graduated from Missouri Western State University, St. Joseph, MO with a BA in Management. He is survived by his three children, Leanne, Patricia, and Patrick Jr Sharkey; his three stepsons, Anthony, Mike, and Bryan Santori; and six grandchildren.
###