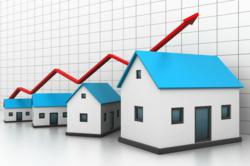 "Seeing mortgage interest rates rise after all this time should be a wake-up call for those looking to buy a home or refinance within the year. As a result, we expect to see an increase in clients looking to make a real estate transactions." -David Chang
Chicago, Illinois (PRWEB) February 07, 2013
Everyone knew that mortgage interest rates would rise at some point, and it appears that time is now, according to recent reports by Freddie Mac.
The LA Times reports that interest rates on fixed mortgages rose this week, with lenders offering 30-year home loans at an average 3.42%, up from 3.38% a week ago. The rate for a 15-year fixed mortgage, a popular option for people refinancing home loans, was 2.71%, up from 2.66%. Furthermore, borrowers would have paid 0.7% of the loan amount to lenders in upfront fees and points to obtain the rates, Freddie Mac said Thursday morning in its weekly report.
What To Do When Mortgage Interest Rates Rise
For the rest of the year, Freddie's chief economist Frank Nothaft expects rates to gradually move higher, ending the year at about 3.75% and then moving above 4% sometime next year. In a recent USA Today article, Nothaft noted that, "There's no point to dilly-dally" to wait for lower rates if someone is considering refinancing their home."
Attorney David Chang of Chang and Carlin, LLP agrees. "Seeing mortgage interest rates rise after all this time should be a wake-up call for those looking to buy a home or refinance within the year. As a result, we expect to see an increase in clients looking to make a real estate transaction happen before rates jump even more."
This is not to say that home buyers should decide whether it's time to buy a home or not strictly based on rates. Though if they feel like they are ready to commit to home ownership, they should move quickly to take advantage of the low rates while they last. Interest rate spikes can add tens of thousands to the ultimate price of a home.
Mortgage Interest Rates Rise, Lead To Dampened Home Sales and Refinance Demand
Still, the rate increase has had an immediately chilling effect on applications for U.S. home mortgages and refinancing applications. Both tumbled last week after three consecutive weeks of gains, with demand slumping as interest rates rose.
According to CNBC, The Mortgage Bankers Association said its seasonally adjusted index of mortgage application activity, which includes both refinancing and home purchase demand, fell 8.1 percent in the week ended January 25.
The index of refinancing applications also dropped 10.2 percent. The refinance share of total mortgage activity eased to 79 percent of applications from 82 percent the week before. However, the gauge of loan requests for home purchases (a leading indicator of home sales) held up relatively better, slipping just 1.8 percent.
Up to this point, the recent low rates had helped the housing market bounce back, as home prices were up 5.5% in November year-over-year, Standard & Poor's Case-Shiller data showed earlier this week. New and existing home sales had also been on the rise, which added to the overall economy resurgence.
Recent record low mortgage rates had been one of the few aspects of the struggling economy that offered a ray of hope for prospective home buyers. While mortgage interest rates are unlikely to rise at a rapid pace, those looking to make a real estate transaction should certainly no longer rely on the continued era of miniscule interest rates.
About Chang and Carlin, LLP:
The attorneys at Chang and Carlin, LLP provide Chapter 7 and Chapter 13 bankruptcy filings, real estate services, and IRS tax help. For any bankruptcy and real estate legal needs, Chang and Carlin, LLP provide the necessary legal experience and personal service that clients deserve.