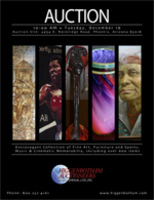 After a half century in the auction business you would think I'd have seen everything, but then along comes the Scott M. Coles Estate. Prior to Mr. Coles death, he'd accumulated a grand collection of art, paintings, sculpture and hundreds of one of a kind items
Phoenix, AZ (PRWEB) December 3, 2008
Higgenbotham Auctioneers International (HAI) confirmed today that their firm has been retained by the SMC Revocable Trust to offer at public auction Mr. Scott M. Coles' fine art collection and estate furnishings at 10 a.m., Tuesday, December 16th. The auction is to be conducted on the grounds of the Coles Phoenix home and is being held to settle the affairs of his estate.
Coles was the chairman and chief executive officer of Phoenix-based Mortgages Ltd., a company that was founded by his father "Chuck" Coles in the mid 60's and which at the time of his death was considered to be Arizona's largest private mortgage lender. Public records indicate that Mortgage Ltd., produced $3.3 billion in transactions in 2006.
Mr. Coles is remembered as a philanthropist, donating money and time to various Phoenix charities including Childshelp, Boys & Girls Clubs and Southwest Autism Research & Resource Center. His generosity and caring were not limited to large groups, Coles charity was shared with many Phoenicians on an individual basis. It is said that he "enjoyed improving lives."
The live public auction will include more than 600 items and will be simultaneously broadcast worldwide via the Internet with real time bidding available. Information is available at the following websites TheColesCollection.com and Higgenbotham.com. This is an absolute auction with no reserve. All items will be sold to the last and highest bidder.
A preview of the Coles collection is scheduled for Monday, December 15th between the hours of 10am and 3pm. The preview is open to the public however event tickets are required at a cost of $100.00 per person.
Though the auction and previews will be held on site at the Rockridge Estate, parking for the event will be only available off site at 4455 E Camelback Road Phoenix, AZ 85018. Transportation to and from the estate will be provided.
"After a half century in the auction business you would think I'd have seen everything, but then along comes the Scott M. Coles Estate. Prior to Mr. Coles death, he'd accumulated a grand collection of art, paintings, sculpture and hundreds of one of a kind items," stated Marty Higgenbotham, President and Founder of Higgenbotham Auctioneers International.
"This eclectic collection is valued at over 2.5 million dollars with a range of interest and disciplines that is just astounding. Artist include Maria Louisa Campoy, Paola Frasherelli, Richard Jolley, Michal Zaborowski, Michael Flohr, Stig Persson, Michael Bryan, Henry Ascencio, John Hogan, Tommy Rush, Belvisi, Colen Heaney Lichen and Douglass Hofmann just to name a few," Higgenbotham concluded.
A complete catalog is available at Higgenbotham.com.
About Higgenbotham Auctioneers:
Founded in 1959, Higgenbotham Auctioneers International ("HAI") is headquartered in Lakeland, Florida and specializes in the sale of corporate real estate, large personal estates and other assets throughout the United States and the world by utilizing the auction method of marketing. HAI is an alliance partner of NAI Global and enjoys continuing relationships with Fortune 500 clients such as Alcoa, International Paper, Wal-Mart Realty, and Sinclair Oil, as well as many publicly traded and closely held companies.
For more information on this property, please contact Marty Higgenbotham at Higgenbotham Auctioneers (800) 257-4161 or visit our website at Higgenbotham.com.
# # #