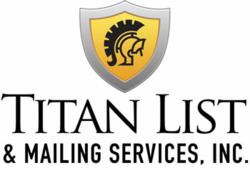 We foresee continuing expansion of the mortgage industry in the near future
Deerfield Beach, FL (PRWEB) November 01, 2012
Titan List & Mailing Services, Inc., a mortgage marketing firm specializing in direct mail marketing, has recently doubled their color capacity due to the increasing demand in the mortgage industry.
The substantial increase in the capacity of the firm's color output is attributed to the steady increases in volume, which increased by over 400,000 in October 2012. The steady increases are due in large part to the expanded FHA MIP program and HARP 2.0, as well as increased response rates.
Even after the widespread adoption of internet marketing, companies still rely on direct mail marketing techniques to reach a targeted audience and achieve a consistent ROI. Being a cost effective method, and with a success rate that can be easily measured, many firms opt for direct mail marketing campaigns to advertise their products and services.
Jared Braverman, Director of Marketing at Titan said, "We foresee continuing expansion of the mortgage industry in the near future. This is a great opportunity for us as we specialize in mortgage marketing and would substantially benefit from this situation." He also said that, "the increase in capacity is necessary to keep up with the increasing demands for direct mailing campaigns using trigger leads, and pre-screened data."
Titan handles the complete marketing campaign in-house including mailing lists and phone lists, direct mail marketing, advertising design, and printing. Their access to nationwide databases keeps them ahead of their competitors and allows them to reach a much wider audience. Besides print, they also offer graphic and website design, and internet / SEO marketing services. Their wide array of capabilities caters to a variety of clients that require marketing services for their businesses.
To learn more about the services offered by Titan List and Mailing Services, Inc., you can visit their website at http://www.TitanLists.com.
About Titan List & Mailing Services, Inc.
The company was established in 1998 as a data brokerage firm based in South Florida. It has a team of well qualified individuals who have more than 30 years of experience in the field of marketing trends. Over time, it has turned into one of the most successful and preferred marketing firms in the mortgage industry. They provide multiple marketing services including direct mail marketing, marketing lists, creative and graphic design services as well as social media or internet marketing. With considerable experience in the mortgage arena and having access to nationwide databases, Titan List & Mailing Services, Inc. is often the first priority of its clients to launching successful marketing campaigns.
For further information, you can contact them using the details given below.
Contact Details
Web: http://www.titanlists.com
Phone: 1-800-544-8060