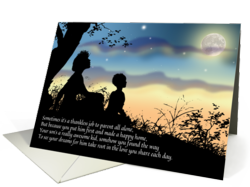 Mother's Day is about family, and families come in all shapes and sizes nowadays.
San Francisco, CA (PRWEB) May 10, 2013
Greeting Card Universe, the world's largest greeting card store, announces its collection of 64 hard to find and unique cards for Single Moms and Mr. Moms to celebrate Mother's Day.
"Over a quarter of all children in the US are raised in single parent households either by their mother or father," says Mindy Rosso-Gaemi, Community Manager at Greeting Card Universe. "Common causes range from divorce to unintended pregnancy, or starting off in a committed relationship that ends, leaving kids to be raised by one parent."
According to lifesitenews.com, the number of children living in single-parent homes has nearly doubled since 1960, according to data from the 2010 Census. The Washington Times analyzed the most recent census data, showing that the percentage of two-parent families has dropped significantly over the past decade in all 50 states. Even as the total number of American households with children increased by 160,000, the number of two-parent households decreased by 1.2 million.
"Mother's Day is about family, and families come in all shapes and sizes nowadays," says Rosso-Gaemi. "Single moms and dads have twice the responsibility even if a co-parent is in the picture. On their own, they do everything that would normally be split between two parents. That's why it's important for the special bond shared with a single parent to be acknowledged— the person who made sure you brushed your teeth, tucked you into bed, helped with your homework, kissed a boo-boo to make it better, and drove you to Timbuktu and back again!"
Greeting Card Universe's Mother's Day cards for single moms and Mother's Day cards for Mr. Moms are not readily found at local card stores. "Once shoppers discover the variety of cards we offer, they'll never shop anywhere else," says Rosso-Gaemi, "and ordering online from Greeting Card Universe.com is easy and convenient with an added convenience for last minute shoppers. For last minute shoppers, cards can also be ordered online and picked up – usually within one hour – from most Target stores across the country."
Additionally custom greeting cards can be created within 48 hours at no additional cost by requesting changes or a totally new design from a community of more than 5,900 freelance artists from around the world. Shoppers can also personalize the inside of all cards at Greeting Card Universe with their own text and photo.
Greeting Card Universe's traditional and niche offerings of over 589,000 cards gives nod to the importance of choice and personalization in today's marketplace and stays true to its tagline "any card imaginable."
Explore more uncommon holidays and occasions on the Greeting Card Universe blog. Mindy Rosso-Gaemi is available for guest blogs, radio and TV interviews on this topic and other uncommon occasions and holidays.
About Greeting Card Universe
Greeting Card Universe (http://www.greetingcarduniverse.com) is a division of BigDates Solutions, a private company that provides consumers with unique, personalized services for any holiday or occasion. Greeting Card Universe is the world's largest paper greeting card store, offering an unlimited selection of custom greeting cards, birthday greeting cards, photo cards, invitations, and note cards. BigDates Solutions is the leading provider of Online Reminder Service Solutions, powering gift-reminder services, including 1800Flowers.com and FTD.com. The company is also the owner of Birthday Calendar, a Facebook application with over 42 million installs.