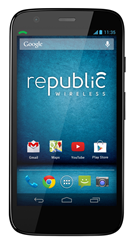 With Republic Wireless' easy to understand plans for the Moto G, priced from $5 to $30 per month, consumers always know what they're getting, without ever having to count minutes, monitor the number of texts sent, or worry about data overage fees.
Raleigh, NC (PRWEB) April 17, 2014
Republic Wireless, the game-changing mobile service provider that harnesses both the power of WiFi and cellular networks to save consumers money on smartphone service, is now selling Motorola's Moto G™ with no contract starting at $149 for the 8GB version and $179 for the 16GB model at RepublicWireless.com. Offering affordability, style, and performance, Moto G pairs perfectly with Republic's service plans that start as low as $5 per month.
"Since our start in 2011, we have been committed to reshaping the wireless experience for consumers everywhere and Moto G furthers that commitment," said David Morken, co-founder and CEO of Republic Wireless. "With a quad-core processor, HD display and Android 4.4 KitKat, Moto G is an exceptional smartphone, pairing features normally seen in high-end devices with a price tag that's under $150."
With Republic Wireless' easy to understand plans for the Moto G, priced from $5 to $30 per month, consumers always know what they're getting, without ever having to count minutes, monitor the number of texts sent, or worry about data overage fees.
Moto G is designed for busy lifestyles. Whether it's checking email, watching videos on YouTube, getting directions, or browsing the web, Moto G is an affordable companion for those who don't want to compromise their smartphone experience. Optimized for superior voice, text and data while on WiFi and offering seamless connectivity when moving from WiFi coverage to the cellular network, Moto G is packed with a number of innovative features including:

Touchless Control – Intelligent voice recognition software that allows users to ask whatever they need to know. Google Now makes it easier than ever to set an alarm, get directions, find out the weather, and much more.
Motorola Migrate – Helps users easily transfer messages, photos, video, music and more from their old smartphone devices.
HD video calling – Simple video calling via Google Hangouts makes participating in work meetings or keeping in touch with loved ones more personal and easy.
Quad-core processor – Offering a Qualcomm® Snapdragon™ 400 processor with 1.2 GHz quad-core CPUs, Moto G is an affordable smartphone with no compromises in the hardware department.
HD display – A 4.5-inch 720p HD edge-to-edge display offers crisp images and text that are easy to read. Corning Gorilla Glass protects the phone from everything users can dish out.
Android™ 4.4. KitKat® – The Moto G for Republic Wireless launches with Android 4.4 KitKat, delivering all the best features of Android technology.
Republic members can choose one of several pricing plans, selecting the option that best fits their lifestyle versus overpaying for cellular service they don't need. Additionally, members can change plans up to twice per month. Moto G plan options include:
Unlimited talk, text, and data, on WiFi only - $5/month
Unlimited talk and text on WiFi and cellular, and unlimited data on WiFi - $10/month
Unlimited talk, text and data on WiFi, plus 3G cellular - $25/month
"As a father of six children, I'm all too familiar with the dent that smartphones can put in a family budget, especially when it comes to kids eating up cell data. Dollar for dollar, the Moto G combined with our hybrid WiFi and cellular service is exceptional," Morken said. "I've spent a lot of time personally testing the device and my experience has confirmed what we expected from the start—that the Moto G performs at a level that's normally attached to a much higher price tag. Paired with the best value plans on the market today, we fully expect this new offer to far exceed the expectations of consumers who want a world-class smartphone but have a real-world budget."
RepublicWireless.com will also offer a full range of Moto G accessories including grip, flip, and standard shells in a variety of colors. From orange to blue, Moto G shells can be changed whenever the mood strikes, allowing for individual style and customization.
To purchase the Republic Wireless Moto G, visit https://republicwireless.com/phones/moto-g.
About Republic Wireless
Recognized in the 2014 PCMag.com Readers Choice Awards as having better overall customer satisfaction than the largest four carriers, Republic Wireless is a service provider dedicated to helping consumers save money on their smartphone service. A division of Bandwidth and headquartered in Raleigh, North Carolina, Republic Wireless is spearheading a wireless freedom movement to return value and control of the smartphone experience to members. Leveraging the power of both WiFi and cellular networks, Republic's Hybrid technology uses WiFi in the home, office or anywhere else as the primary network for calls, texts and data. When outside of WiFi coverage, the smartphone utilizes the cellular networks of national CDMA carriers.