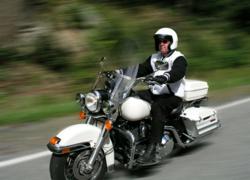 San Francisco, CA (PRWEB) March 28, 2013
North Carolina is considering a bill that would make helmets optional for motorcyclists over the age of 18. The local CBS affiliate reported the news on March 24th, and further pointed out that motorcycle-related injuries and fatalities are currently very high in the state.
"Across the state there have been 783 motorcycle fatalities from 2007-2011, with 15 of those in Gaston County," Sgt. Chad Hawkins of the North Carolina Governor's Highway Safety Program told CBS. Because of statistics like these, North Carolina has implemented a program called BikeSafe North Carolina, which seeks to educate riders on motorcycle safety, with the help of trained motorcycle police. So far, it's unclear how much of an impact a helmet law repeal would have on this safety effort.
According to CBS, House Bill 109 would amend the current law so that only minors would be legally required to wear a helmet, and opponents fear that the change would lead to an increase in brain injuries, while also impacting health care costs statewide. The bill was introduced by Rep. John Torbett, a motorcyclist, who says wearing a helmet should be a choice.
Jeff Nadrich, a San Francisco motorcycle accident lawyer, believes that motorcycle safety is absolutely paramount, and that legislation can go a long way in promoting safety. According to Nadrich, "The personal freedom of bikers is very important, but that freedom is outweighed by the need for safety, and helmet laws do in fact save lives."
Nadrich believes that repealing the helmet law would be a step in the wrong direction, especially considering North Carolina's motorcycle accident statistics. Nadrich urges all riders should protect themselves with the proper headgear, regardless of the laws, and he urges all motorcycle accident victims to contact a qualified motorcycle accident attorney right away.
About Nadrich & Cohen: Jeffrey Nadrich is a personal injury attorney with Nadrich & Cohen, a California based law firm with offices in 18 locations across California. The firm has offices in Arcadia, Bakersfield, Fresno, Irvine, Long Beach, Modesto, Oakland, Oxnard, Palm Springs, Redding, Riverside, Sacramento, San Bernardino, San Diego, San Francisco, San Jose, Santa Rosa, and Tracy. Nadrich & Cohen handles all types of wrongful death and serious injury accident cases, including auto, truck, bus, motorcycle, and bicycle accidents, pedestrian collisions, boating accidents, dog bites, defective product cases and nursing home abuse. Victims are encouraged to call 1-800-718-4658 for a free consultation with a Nadrich & Cohen attorney.