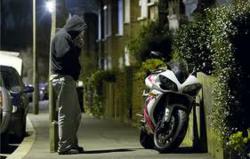 Motorcycles are high value and extremely easy to steal. Thieves will take advantage of those that fail to secure their motorcycles effectively.
Miami, FL (PRWEB) March 04, 2013
With motorcycle ownership on the rise throughout the country, unfortunately so is the risk of motorcycle theft. Motorcycles are often more vulnerable than other vehicles to theft because they are small and easy to move. According to reports, only 25-30% of motorcycles that are stolen are ever recovered.
Despite the ease with which criminals can steal motorcycles, there are steps owners can take to make it more difficult for a thief to steal their property, according to the security professionals at SecuritySystemReviews.com, a site offering reviews of the best home security systems and best home security system companies. The website experts created a list of tips for motorcycle owners to protect their investment from theft.
1. Keep a motorcycle out of site. The best way to do this is to store motorcycles in a garage, shed or storage buildings when not in use. The garage or shed should have secure locks, and many garages are also equipped with security equipment. If the garage is detached or a home doesn't have a security system, a motorcycle owner can add cheap security system equipment in the form of DIY security systems, to ensure the security of a motorcycle. Even when a motorcycle owner is home, the garage door should be kept closed, so that a passer-by can't see that a motorcycle is present in a garage or storage building.
2. Block a motorcycle with cars, whenever it is possible, whether in a driveway, or when the motorcycle is parked on the street or in a parking lot, but don't park in an area where the motorcycle is concealed from view by large trucks, vans or SUVs. It's a good idea to keep a motorcycle in a location where cars prevent it from easily being moved, but not where the vehicles are so large that the thief could hind behind the other vehicles.
3. Lock motorcycles to a stationary object, even when the bike is stored in a garage or shed.
4. When out riding or parking a motorcycle in a public area, always use the steering lock, and in addition, owners should use two other locks on their bike as added protection. Good locks for motorcycles include serpentine link locks, u-locks and chains. Motorcycle owners should choose the highest quality locks available, even if they are more expensive than lower quality alternatives. It's also a good plan of action to park a motorcycle where it can easily be seen at all times, when out riding.
5. Always lock the motorcycle ignition and take the key. It seems like common sense to many motorcycle owners, but forgetting to lock the ignition or remove the keys is often the most common way bikes are stolen.
6. When parked, particularly for long periods of time, or in unfamiliar areas, remove the main fuse of the motorcycle.
7. Consider a specialized insurance policy, specifically for motorcycles. Many motorcycle owners believe they will be covered in case of a theft by their homeowner's policy, but this often isn't the case.
About the Company
SecuritySystemReviews.com is a website that provides comprehensive and unbiased reviews and price comparisons of top home security companies and equipment, including DIY security system companies. All reviews are conducted by security professionals, to assist consumers in the decision of purchasing a home security system.