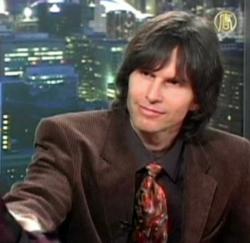 Courageous citizens worldwide are standing up for truth concerning consumer product excessive electromagnetic radiation emission
(PRWEB) September 09, 2009
Mississauga, ON (PRWEB) September 9, 2009 -- Motorcyclist Randall Dale Chipkar is campaigning for rider safety regarding cancer risk from ELF EMF excessive radiation penetrating up through motorcycle seats. Motorcycle cancer concern includes prostate cancer, colon cancer, breast cancer, etc. The Motorcycle Cancer Risk Worldwide Petition was developed to encourage the motorcycle industry for safer vehicles.
"Courageous citizens worldwide are standing up for truth concerning consumer product excessive electromagnetic radiation emission," says patent-granted Canadian author Randall Dale Chipkar. "I developed The Motorcycle Cancer Risk Worldwide Petition for consumer safety. Nobody wants cancer-controversial radiation racing through their body especially cancer-survivor avid motorcyclists," adds Chipkar.
"Doctors prove non-ionizing, non-thermal extremely low frequency electromagnetic field (ELF EMF) radiation danger. Beneath millions of motorcycle seats are electrical components generating excessive ELF EMF radiation. The petition YouTube video proves ELF EMF radiation is evident up to six feet away from motorcycle seats," says Chipkar.
"Some motorcycle seat ELF EMF readings reach over 500 milliGauss (mG) of intensity. In contrast, doctors raise cancer concerns involving 3 to 5 mG of ELF EMF exposure from other sources. ELF EMF magnetic radiation emission concern includes motorcycles, all-terrain vehicles (ATVs), quad bikes, etc.
"Melatonin is our natural hormone for inhibiting cancer-growth. ELF EMFs disrupt the role and production of melatonin. Melatonin is mainly produced in the gastrointestinal tract. Millions of motorcyclists are having their main supplier of melatonin showered with ELF EMF radiation. Melatonin compromise can affect cancer-growth inhibition at locations anywhere throughout the body," Chipkar says.
"Concern resides in motorcycle seat cancer-controversial ELF EMF radiation flooding the entire torso. This can increase the risk of developing lymphomas, leukemia or prostate cancer, testicular cancer, colon cancer, bladder cancer, kidney cancer, liver cancer, pancreatic cancer, stomach cancer, etc. Both the heart and immune system can also be at risk for disorder or malfunction. Infertility, sterility, erectile dysfunction, impotence, prostatitis, benign prostatic hyperplasia (BPH)-prostate enlargement, urinary problems, infections and loss of libido could also be side effects of excessive ELF EMF radiation penetrating the groin.
"Further concern involves motorcycle generated ELF EMFs that reach the breast area. Various types of ELF EMF exposures are suspect of interfering with certain breast cancer medication. Promotion of any hereditary cancer progression is another concern for avid motorcyclists," Chipkar adds.
"Major organizations now agree non-ionizing, non-thermal ELF EMF magnetic fields are a possible carcinogen. The world renowned BioInitiative Report proves biological danger from ELF EMF exposures. Worldwide medical establishments now recognize electro-sensitive disorders such as Electro-Sensitivity (ES) also known as Electro-Hyper-Sensitivity (EHS). Doctors link ELF EMFs to diabetes complications. Vehicle labeling of ELF EMF emission would enable consumers to make personal health choices regarding extremely close exposure.
"Biologically-based exposure guideline standards for consumer product ELF EMF emissions are urgently required along with labeling. The petition target is the World Health Organization representing international governments and the global motorcycle industry," says Chipkar.
"By signing The Motorcycle Cancer Risk Worldwide Petition we can make a difference. Through courageous participation an electromagnetic environmentally safer world is inevitable," says Chipkar. You can see Randall Dale Chipkar in a YouTube motorcycle cancer television interview part 1. Part 2 of the interview can be seen at the Motorcycle Cancer website for rider safety.
Contact:
Randall Dale Chipkar
Chipkar Health Concepts Limited
The Motorcycle Cancer Website
http://www.motorcyclecancer.com
###