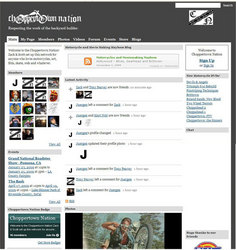 I guess we always kind of operate on the premise of build it and they will come.
Los Angeles, CA (PRWEB) January 17, 2009
New motorcycle-themed social network for bikers launched by indie filmmakers gains traction with hungry niche. Applying the same core principles that enabled them to inspire a motorcycle film making renaissance, producer/directors Zack Coffman and Scott DiLalla have created a website for grease monkeys worldwide who share a common love of choppers, crotch-rockets, Harleys, Triumphs, cafe-racers, and all motorized two-wheeled vehicles.
Back in July of 2004, filmmakers Scott DiLalla and Zack Coffman had just begun the first day of shooting their first film, a self-financed motorcycle documentary eventually known as Choppertown: the Sinners... "We just couldn't stand all the establishment knuckleheads telling us that a biker movie couldn't succeed, so we picked up cameras and got to work," recalls DiLalla, We just wanted to show people that a film doesn't need big stars or a big budget to touch people." Coffman remembers, "We wanted a title for the film that meant more than just a description, we wanted it to represent a fantastic place where everyone could ride, chop, weld, play music, and hang out with buddies. That's when we thought of Choppertown..."
It's four years later and the company they started (One World Studios) now distributes more than fifteen underground biker movies worldwide and is in the process of releasing their fourth and fifth films while also preparing for a number of exciting initiatives with one of their sponsors, the Williamson-Dickie Mfg. Co. (Dickies) including screenings of their new film the Harbortown Bobber.
"We've been blown away by the response to the site (choppertownnation.com)," says DiLalla, "I guess we always kind of operate on the premise of build it and they will come." And come they have; the site boasted over 3,500 photo uploads and 100,000 page views in only its first three days. The average bounce rate is only 25% and time spent on the site is over 10 minutes per visitor which are numbers any major corporate site would love to have.
Choppertown Nation features free video and photo upload, chat, events, blog roll, a forum, and even a job board. Says DiLalla, "We tried to make the site as flexible and fun as possible while providing members access to news and information important to them. It's about bringing together different people from all over the world who share common interests. It's about respecting the work."
The site will also offer giveaways, contests, and quizzes nearly every week with prizes provided by sponsors such as Dickies, Biltwell, Lowbrow, Lick's Cycles, and Dice Magazine.
Says Coffman, "We always envisioned a website where folks could gather away from the mainstream and share stories and pictures, and maybe make a new friend or two along the way. We couldn't have done any of this without the support of our fans. Thank you."
About Choppertown:
Choppertown: the Sinners is a documentary motorcycle DVD and is available through Choppertown.com as well as all major DVD outlets such as Amazon, Bestbuy.com, DVDEmpire, Netflix, and iTunes.
Winner of several Best Documentary awards including: the Temecula Valley International Film Festival, Hollywood DV Festival and Park City Film Music Festival.
About One World Studios Ltd.:
One World Studios is a fully integrated media company specializing in the production and distribution of films, DVDs, music CDs and books; online and through traditional distribution methods.
Motorcycle DVDs produced include: Choppertown: the Sinners, Choppertown: From the Vault, and Brittown.
Motorcycle DVDs distributed include: Choppahead Vol 1&2, Two Wheel Terrors, Devils & Angels, Triumph 650 Rebuild, Pinstriping Techniques, and Roland Sands: New Blood.
About Dickies:
Since its beginnings in Fort Worth, Texas in 1922, the Williamson-Dickie Manufacturing Company has grown from a humble manufacturer of bib overalls into a global brand powerhouse, with Dickies work pants, shirts, denim, outerwear, school uniforms, outdoor gear, medical and chefs apparel and an extensive licensing program offering sturdy head-to-toe clothing options for hardworking men and women of all ages, professions, regions and interests. Williamson-Dickie operates through subsidiaries in North America, Canada and Europe as well as exclusive distributorship around the world.
###