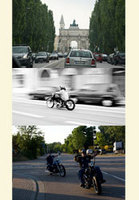 We never could have done this amazing trip without the support of our friends and fans who treated us like long-lost family every step of the way.
Los Angeles, CA (PRWEB) July 26, 2010
What happens when two indie directors are given the chance to take the trip of a lifetime? Join filmmakers Zack Coffman and Scott DiLalla on a crazy six week trip as they show their films throughout Europe, meeting underground builders and throwing parties along the way. As they blast through each country they are met by local friends and fans who treat them like long lost family. Part travelogue, part video diary, and part biker mayhem, this once in a lifetime adventure is not to be missed.
Order the DVD at http://www.choppertown.com
Ships in September 2010!
From the directors of the award-winning biker movies Choppertown, Brittown, and the Harbortown Bobber comes the newest biker creation from independent film studio One World Studios.
Featuring: Mods vs. Rockers Chicago, Johnny's Garage Germany, Bosse Jensen and Gasoline Magazine Sweden, Kopteri Finland, Tridays Austria, Los Tremendos Latinos Barcelona, Independence Weekend Jesolo Italy with Sinners Sweden, Baron's Speedshop and The Ace Cafe London, Custom Sickles, The Preacher, Jesper Bram, Voodoo Beat, Custombike, Wild Magazine, Kutty Noteboom, and many more.
Amazing original soundtrack by Ezio, Frank Carillo, Talco, Superpunk, Guadalupe Plata, The Cosh Boys, Nobelkommitten, Rantanplan, Phantastix, Moritz Kraemer, and more.
About the Tour:
The featured films on the twelve city tour are the award-winning cult movie phenomenon Choppertown: the Sinners and the acclaimed follow up film Brittown. Widely considered to be the most important biker documentaries in over thirty years, the One World Tour was the first time many in Europe had a chance to see these seminal films set in the real world of Kustom Kulture. Producer/directors Scott Di Lalla and Zack Coffman toured with the films offering fans a chance to sit down and enjoy a pint with the creators. Coffman described the events as, "Screenings of the film were more like cultural events than just traditional sit-down screenings. We wanted people to bring out their bikes, eat good food and enjoy the free giveaways from the sponsors…and of course enjoy the films! What actually happened was much much more. 10 countries in six weeks...it was a wild trip." DiLalla adds, "We want to thank our fans and friends without whom we never would be able to continue following our dreams. See you on the road."
About the films that were shown on the Tour:
"Choppertown" focuses on a renowned group of California bikers known as the Sinners. Produced in 2005 with a stack of credit cards, this award-winning documentary heralded a return to the values of a simpler time. The anti-Hollywood picture shows the true story of a young Sinner and his biker brothers as they help him build an old-school custom bike from the ground up. Not interested in the newest expensive parts, these are real guys who use their hands to make a part when there's no money to buy it. Their motto: "A bike isn't finished until you put some miles on it with your bros." Featuring several well-known Sinners such as rocker James Intveld, insane skater Jason Jessee, custom builder Cole Foster, and Kutty Noteboom.
"Brittown" is also set in California but with one major difference: Triumph stars instead of Harley - and is all about one group's obsession with vintage motorbikes from England as seen through the eyes of a gifted mechanic named "Meatball" who restores vintage Brit bikes, runs the Hell On Wheels bike shop, competes in vintage races a la Steve McQueen, and is the lead-singer of rock band Smiling Face Down. Brittown accompanies Meatball in his workshop, on the road, and at bars and pubs - taking an insider's look at the Brit bike scene in So Cal.
About One World Studios Ltd.: Founded 2002 with a stack of credit cards and a dream, One World Studios has grown into an award-winning, fully integrated independent film distribution and production company specializing in the production and distribution of films, DVDs, music CDs and associated original and licensed merchandise; online and through traditional distribution methods.
# # #