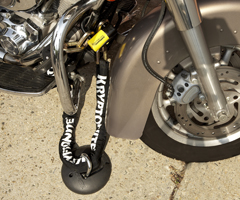 (PRWEB UK) 26 March 2013
With each passing month, expectations get a little higher that the UK's weather is about to change… With a glimmer of optimism and a little help from friends in the biking world, MotorCycle Direct (MCD) have looked to the sunny future and pulled together a few choice gadgets for all motorcycling enthusiasts, to make their upcoming riding days that little bit sweeter.
The first gadget on the list isn't technically just for summer but will increase security all year round. Kryptonite's stronghold security anchor, recommended by Deborah Pope, bolts into cement or concrete. As it can be folded down when not in use and is safe enough to drive over, it won't take up space or get in the way!
Even though the sun may be starting to break through, we still have the sharp days of spring to enjoy so it's not time to pack away the thermals just yet! Deepak Narwal recommends Oxford Sports Hot Grips which come in a standard size, heat up to 50 degrees centigrade and will turn off automatically if accidentally left on. If that's not enough, Martin Rowland is an advocate of the Keis Heated Vests which can be powered directly from the bike's battery.
Longer daylight hours usually result in more time out on the road and, as such, suitable safety equipment gains more importance. Crash protectors like those provided by Branded Biker's R&G, protect the rider and also the bike chassis in the event of an accident. Ian Grainger of (http://www.2commute.co.uk) suggests the necessary protective qualities of TCX X-Street Leather Sneakers. Their retro look perfectly disguises their practical ankle guards, reinforced toe and heel guards!
Ian also commends the Buhel D02 Bluetooth Intercom Helmet which allows motorcyclists to make phone calls, listen to music, get GPS information and all using wireless technology! Not only would this helmet make any ride practically perfect, the icing on the cake is cameras for helmets. In particular, MCD applaud Motohaus's range whose footage can be edited in most standard video editing packages. Finished articles can easily be uploaded to YouTube or Facebook so every exciting moment is captured!
Alan Griffett, Head of Business Development, Marketing and Sales of MotorCycle Direct says 'Looking ahead to the summer always puts us in a good mood, it's a great excuse for browsing the latest gadgets and seeing what we'd most like to invest in. Hopefully the selection of health and safety, security and leisure products highlighted here will help you to get in the mood for summer and well and truly banish the winter blues! Thanks to the Kent Bikers who helped us put this together.'
To find out more about any of the products listed above, see the main article hosted on MotorCycle Direct's website, or request further details from them directly. Hopefully it won't be too long until summer arrives and, when it does, here's to safe riding!
About MotorCycle Direct
MotorCycle Direct was founded in 1997 and is a trading name of Europa Group, who look after the needs of over 260,000 customers and employ over 410 staff. The company was formed out of a commitment to offer the best bike and scooter insurance solutions at competitive prices to riders in the UK. Their experience has culminated in an unparalleled knowledge of the UK's motorcycle industry in addition to a fully comprehensive understanding of bike insurance.