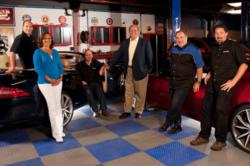 America's love affair with the automobile is being redefined. -John Davis, MotorWeek host
Owings Mills, MD (PRWEB) September 07, 2012
Season 32 of MotorWeek, television's longest-running automotive series, features an epic battle that's been decades in the making. For the first time this century, domestic automakers are mounting a serious challenge to the best of the import brands. Which one will come out on top? The new season of MotorWeek premieres on public television stations nationwide beginning Saturday, September 8, 2012, and takes a look at what consumers can expect as the competition heats up.
"America's love affair with the automobile is being redefined," said John Davis, MotorWeek host and senior executive producer. "Consumers will see a record number of all-new vehicles from both domestic and import brands over the next 12 months, including the first 2014 models adhering to new, tougher fuel economy standards. MotorWeek will help buyers make sense of all the choices, particularly when it comes to engine options and technology features."
Like the automotives it covers, MotorWeek also gets a top-to-bottom refreshing for season 32. The series has a more contemporary look and feel with new, stylish graphics, an all-new opening sequence, as well as new arrangements for MotorWeek's opening theme.
The season premiere of MotorWeek features the fastest, street-legal Mustang yet, the 2013 Ford Shelby GT500, and a pair of rarefied BMWs, the 2013 6 Series Gran Coupe and the 2012 M6 Convertible. MotorWeek also stops by Philadelphia's Simeone Automotive Museum for a tour of one of the greatest sports car collections in the world.
Other highlights from MotorWeek's new season include road test reviews of the all-new 2013 Cadillac ATS, designed and engineered to take on European rivals; the all-new 2013 Subaru BRZ, a rear-wheel-drive sports coupe jointly developed by Toyota and Subaru; the all-new 2013 Honda Accord, a significant update of the Japanese automaker's popular midsize sedan and coupe; and the 2013 RAM 1500, refreshed with substantial gains in fuel economy.
MotorWeek is more than just a show about new cars. It's also about keeping the cars you already own running. Master technician Pat Goss returns with DIY car care advice on brake maintenance, prepping your classic car for long-term storage, and buying automotive parts online. Pat will also visit a hot rod garage to see what it takes to build one.
MotorWeek can be seen on public television stations nationwide, as well as Velocity, V-me Spanish language network, pbs.org, YouTube, Facebook and Twitter. MotorWeek is nationally sponsored by RockAuto, Tire Rack and 3M.