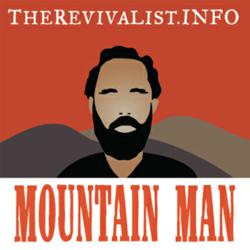 We're mountain proud, so why not let the whole world know it?
(PRWEB) March 13, 2013
The Revivalist: Word from the Appalachian South, a site committed to the unique heritage and culture of the Southern mountains, has re-launched with a new Website design and freebies for mountain lovers everywhere.
Those who like the site's Facebook page receive access to special Mountain Man and Mountain Mama social media badges. Designed by Johnson City, Tennessee artist Suzie Kelly, these quirky badges make perfect social media profile pics. They're also fun to feature in status updates.
"We're in the middle of a full on revival of Appalachian culture," said Mark Lynn Ferguson, a Roanoke, Virginia native who founded The Revivalist. He points out that the region has Ralph Stanley and FloydFest, zip line tours and white water rafting, nationally recognized vineyards, and arguably the best swimming holes around. "We're mountain proud," he added, "So why not let the whole world know it?"
In addition to badges, Facebook followers gain access to Mountain Man and Mountain Mama computer wallpaper. When people use them as backgrounds on their monitors, they show their enthusiasm for the mountains every time they boot up.
Other new features include a Pinterest page committed to the Appalachian South and a new section on the Website called "Fresh News Hand Picked," which features curated articles about Appalachia from across the Web.
These supplement The Revivalist's already popular original writing, which includes last year's viral hit "Dear West Virginia." The essay drew more than 70,000 visitors to the site and inspired hundreds of people to leave comments, declaring their love for the Appalachian South.
About The Revivalist: Word From The Appalachian South: Founded in 2010, the site has emerged as a hub for Appalachian enthusiasts. With committed sections on the region's food, music, outdoors, travel and more, it is leading an Appalachian revival.
About Mark Lynn Ferguson: Mark Lynn is a native of Roanoke, Virginia. He has talked about the Appalachian South in national and local news outlets, including ABC News and Huffington Post. He now lives in Washington, DC but stays connected to his homeland by making fried taters, hightailing it to the mountains every chance he gets, and writing on The Revivalist. Mark Lynn holds an ED.M. from Harvard University and is pursuing an M.F.A. in creative writing at Queens University of Charlotte.