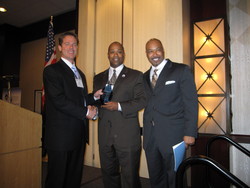 This was a very well received and very timely program
Washington, DC (PRWEB) February 21, 2009
U.S. Department of the Treasury Associate Chief Information Officer (CIO), Diane Litman, addressed hundreds of business representatives at a Peak Series CIO Breakfast, hosted by Mountaintop Marketing Group, LLC (http://www.mountaintopmarketing.com), a full service marketing, advertising and business development firm based in Washington, D.C. At the J.W. Marriott Hotel, Litman discussed how the Treasury's information technology is impacted by the new Federal programs enacted to stabilize the U.S. Financial System and lead the nation on the path toward economic recovery. The Feb. 19 breakfast was sponsored by Provident Bank and SAIC as well as Mountaintop's Peak Series partners CISCO, Eagle Eye, Design to Delivery, Videobred and ICAT.
As federal agencies roll out one of the largest stimulus packages our nation has seen in decades, many of the region's private sector representatives received a glimpse into opportunities for both large and small businesses in the coming year.
"This was a very well received and very timely program," said Michael Bowlds, president, Mountaintop Marketing Group, LLC. "The attendees at our breakfasts gain unique insight into federal agencies― directly from Chief Information Officers and other key agency executives as well as large and small prime contractors supporting the agency. There is always a wealth of information shared along with substantial networking opportunities."
Keynote speaker Diane Litman discussed several impacts the new administration and economic crisis has had on the U.S. Department of the Treasury. As the agency with the nation's third largest information technology budget, 25 percent of the Treasury's annual budget goes toward IT infrastructure and support.
One key point Litman discussed was how the Treasury is looking for ways to be more efficient in supporting its legacy systems so it is able to devote more resources to implementing new systems.
Litman also discussed how the agency is currently evaluating IT systems' needs for the government's Troubled Asset Relief Programs (TARP) and how it will implement other strategic presidential initiatives.
To understand the broad spectrum of the U.S. Department of the Treasury, small business owners also gained insight from Terry Fitzpatrick, vice president of the Science Applications International Corporation (SAIC). Fizpatrick discussed how the $9 billion company started as a small business in 1974 and still upholds that same entrepreneurial spirit and values today.
"We believe in solving problems of national importance," said Fitzpatrick. "SAIC has never lost sight of what it means to be a small business owner. The small businesses here today are very important partners to us in our mission."
In addition, Knight Point Systems, a service-disabled veteran owned small business, received the Provident Bank Small Business Spotlight award for not only providing high quality support to the U.S. Department of the Treasury, but also for the company's high-impact commitment to supporting The Wheels for Warriors Fund. Knight Point Systems will host a charity golf tournament to be held Tuesday, April 14, 2009 to help provide new conversion vans for Wounded Warriors who benefit from the fund.
Mountaintop Marketing Group's Peak Performance Breakfast series offers small businesses an opportunity to receive first hand contracting information on opportunities, best practices, and key insight into government programs and procurement initiatives. The forum enables agency executives to address an audience of small businesses to create and leverage networking and contracting opportunities.
For more information about the Peak Series events, visit http://www.mtopseries.com.
About Mountaintop Marketing Group:
Mountaintop Marketing Group is a full service marketing, advertising and business development firm specializing in assisting small businesses and existing corporations with attracting new customers and increasing sales by developing and implementing highly results-driven strategic programs. Mountaintop's talented staff of business development professionals provides a high impact sales force to assist companies in the development of government and corporate business opportunities. Visit http://www.mountaintopmarketing.com for more information.
# # #