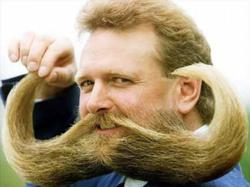 EL SEGUNDO, CA (PRWEB) November 20, 2012
Go Banking Rates takes the opportunity to support fundraising efforts whenever possible. Coming off the tail of the site's October breast cancer awareness series, Go Banking Rates is now turning its attention to men's health issues by bringing personal finance and fundraising together for Movember.
This month marks a special time for socially-conscious men; Movember, the movement started by Australian Adam Garone to raise money for prostate and testicular cancer research, as well as fund boys' sports programs, involves men around the world growing mustaches throughout the month of November to show their support for the cause.
Because saving money and donating money are two highly important personal finance concepts, Go Banking Rates unites the two in its lighthearted examination of the relationship between mustache styles and savings habits. In fact, the feature highlights the six most popular mustaches, as well as the personality types associated with each -- including: Mutton chops, the Chevron, the Cowboy, the Pencil, the Handlebar and the Horseshoe – and explains how each relates to the money management skills of the men who wear them.
Because the Movember movement takes a serious subject and uses humor to cultivate awareness and participation, Go Banking Rates hopes to accomplish the same and inspire more men to make savings a priority in their lives.
Click here to see the full story.
About Go Banking Rates
Go Banking Rates (GoBankingRates.com) a national website dedicated to connecting readers with the best interest rates on financial services nationwide, as well as informative personal finance content, news and tools. Go Banking Rates collects interest rate information from more than 4,000 U.S. banks and credit unions, making it the only online rates aggregator with the ability to provide the most comprehensive and authentic local interest rate information. Go Banking Rates also regularly publishes expert advice from personal finance professionals.
GoBankingRates.com belongs to a network of more than 1500 finance websites, including GoInsuranceRates.com and GoFreeCredit.com. These sites receive more than 2 million visits each month.
For questions or comments, please contact:
Jaime Catmull, Director of Public Relations
http://www.GoBankingRates.com
JaimeC(at)GoBankingRates(dot)com
310.297.9233 x261