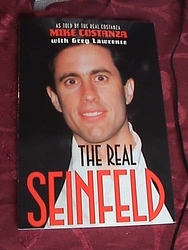 Mike was in the cockpit when the plane took off
Holtsville, New York (PRWEB) September 6, 2007
The Real Seinfeld Revisited has been updated to include intimate detailed conversations and 20 never before released photos. The book chronicles the $100 million dollar lawsuit against Jerry Seinfeld, Larry David, NBC, Castle Rock, Sony Pictures, Columbia Tri-Star Entertainment and Shapiro/West (case no. CVS 99877). It also details the Court Of Appeals decision exonerating Costanza of filing a so-called frivolous lawsuit and removing the sanctions placed by the original court (Appeals 719 N.Y.S., 2d 29 AD 2001).
"So many interesting events happened after the original book came out that I just had to write about it," said Mike Costanza, longtime pal of Jerry Seinfeld and inspiration for the Costanza character in part of a seven minute video interview available on the website http://www.jerryseinfeldbook.com.
Costanza goes on to accuse Seinfeld of betrayal and "throwing him off the plane" when replying to a quote attributed to Jerry, "Mike was in the cockpit when the plane took off" referring to Jerry's career, not standing up for him against Larry David's comments falsely portraying Jerry's friendship with Mike and alleged broken promises made by Jerry.
The "Real Costanza" goes on to mention "the long arm of Seinfeld" and how Jerry's influence may have affected sales and distribution of the original book as well as other authors' attempts to pen a Seinfeld bio as his reason for "bringing the book directly to the fans through the power of the internet."
Costanza, who has raised an autistic daughter, says that 10 percent of gross sales of the book will go towards a new entrepreneurial program to help autistic kids and their families start a business.
http://www.thespecialcookiecompany.com will begin baking four kinds of organic shortbread cookies in special holiday tins priced at $20 beginning November.
The site will interact with other families about the trials and tribulations of life after high school, a time when these kids and their parents could use more support.
The book is available September 6th only on the http://www.jerryseinfeldbook.com website. Excerpts of the book, photos and the seven minute video are available now.
Contact:
Mike Costanza
The Real Seinfeld Revisited
631-716-8700
###