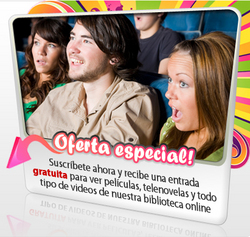 Benton, KS (PRWEB) December 2, 2008
The Zeeng.com Latin Channel, a movie download website targeting "Latin teens" in Latin and North America, is holding a series of 'Web Idol' contests in search of Reporters, Writers, Photographers, and Video producers to help expand local site content. From today through December 20, 2008, entrants can submit their material to Zeeng with the chance of winning iPhones, iPods, MP3 and MP4 players, and other popular gadgets; grand prize winners will have their material featured and incorporated into the website.
Not one of Zeeng's Latin Channel 'Web Idol' winners? No problem. All contestant entrants still have the opportunity to work locally and help expand Zeeng's reach into communities throughout North and Latin America. As a targeted Entertainment website, Zeeng content is generated by in-house staff writers. Editors, writers, photographers, and others in the community are able to add material; however, all user generated content is monitored and edited before being uploaded in order to maintain a high level of user satisfaction.
'Web Idol' was designed to encourage writers, photographers, video editors, and reporters to take part in developing the subject matter on Zeeng. Bursting with the latest videos from around Latin America, Zeeng urges members and users to edit, write, and communicate through the website, utilizing available tools and features to enhance site material.
Zeeng's year-old Latin Channel targets Latin teen girls, ages 15-30, featuring movies, Telenovelas, TV series, and other videos that are popular among young Latinas. Zeeng.com has already expanded this content into rich and comprehensive online entertainment magazine with a similar focus and target audience.
About Zeeng.com:
Zeeng.com is an international platform for distribution of video over the web.
The platform supports download, streaming, and live broadcast, under single OR multiple customized domains.
Their vision is to supply high quality video content that will include all cultural groups, expats and immigrants around the world. Zeeng's platform allows content owners (producers, directors, distributers, national channels etc.) to monetize their video assets while being totally protected by cutting edge DRM technology (Digital Rights Management).
For more information, please visit http://www.Zeeng.com.
Media contact:
Yoram Azrak
CEO, Zeeng
yoram (at) zeeng.com
http://www.zeeng.com
###