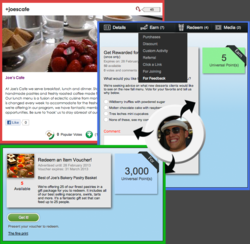 mplifyr is a patented loyalty program software with a universal point system.
Houston, Texas (PRWEB) March 05, 2013
Businesses lacking the time and hefty expense to build a professional loyalty system can use mplifyr to create and manage an advanced program designed to build customer loyalty with features promoting emotional customer engagement and positive customer experiences. mplifyr also contains entertaining gamification features to create engagement amongst users.
Business users can create over 50 different combinations of earning, redemption and fun engagement activities to connect with their customers beyond social media and daily deals. They can incentivize customers to purchase with them, give feedback, refer friends, attend their events and more. The only requirement is an Internet connection.
The loyalty program software introduces a universal point system where users can earn and redeem with any business on mplifyr (online or in-store) and accumulate their points in one central location rather than having them scattered in different programs, giving consumers variety and flexible ways to redeem their points to suit their lifestyle.
Business users can also:

Engage with customers differently by creating custom activities such as contests and events customers can engage in to build customer relationships.
Offer customers exclusive privileges such as "front of the line access" or "the best seat in the house" every time they visit to make them feel special.
Segment VIPs, employees and returning customers to give them greater incentives and value for their redemptions.
Transact earnings and redemptions in seconds through mplifyr or a free mobile app.
Use analytics to view how their program is performing, earning and redemption activities customers respond to, their top customers and more.
Earn and redeem from other businesses to earn rewards for their business.
Integrate their website or POS system.
Participating businesses can support schools, non-profits and charities. A portion of their purchase to participate on mplifyr is placed into a money pool called the "Pile O' Cash," which is given to these organizations at least four times a year.
Cost-effective with no obligation:
Businesses join for free. There are no monthly, set up or subscription fees. Businesses only purchase points to reward their customers after they complete the earning activities in their program and they can pay as they go (similar to topping up mobile phone minutes or credits). Each point is US 2.5 cents and points are purchased in lots. A smaller lot of points can be purchased for $11.00 (inclusive of all taxes).
How individuals use mplifyr:
Individuals join for free and can access all incentive programs built on mplifyr. They can also join (or remove themselves from) programs with one mouse click and loyalty cards are not required because individuals only need to recite their username to receive earnings. Individuals can redeem their earnings for item and cash vouchers, points in participating loyalty programs such as hotels and airlines, cash and 'mystery' redemptions.
Businesses interested in learning more about mplifyr and a full list of features can visit http://www.mplifyr.com/business-info.
About SEiiAN Rewards
SEiiAN Rewards builds loyalty program software to help businesses emotionally engage with their customers to gain loyalty and improve the lifetime value of their customers. Their USA office is in Houston, Texas and their Australian office is in Sydney, New South Wales.