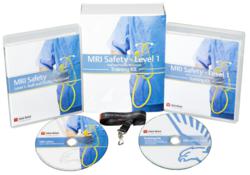 The magnetic field of the MR scanner creates a very hazardous environment, and it is important that all personnel have a basic understanding of MR safety.
Kenner, Louisiana (PRWEB) July 23, 2012
To kick off MRI Safety Week, Falck Alford Productions has released an online quiz to help MR staff and facility personnel test their knowledge of important MRI safety facts. Everyone in an MR facility should be trained in understanding the dangers associated with the powerful magnet, and the proper safety procedures to follow when working in or near the MR suite.
"The magnetic field of the MR scanner creates a very hazardous environment, and it is important that all personnel have a basic understanding of MR safety" said Russell Blanchard, the Media Manager of Falck Alford Productions. "We released this online quiz for MRI Safety Week to start an international conversation on the need for an educational program in every MR facility."
MRI Safety Week, taking place between July 23rd and July 29th, 2012, was created to mark the anniversary of the tragic 2001 death of Michael Colombini, which occurred when a portable steel oxygen cylinder got pulled into the machine. This eleventh anniversary of the event marks an occasion for an annual review of safety and emergency procedures for any facility with an MRI machine.
The MRI Safety Quiz, available at http://www.falckproductions.com/mri-safety-week/, is a first step for safety training in regards to this potentially hazardous piece of equipment. The five question quiz represents a small example of the knowledge necessary to work in a MR facility.
In addition, Falck Productions offers a safety video and training kit for those who seek further education past the quick quiz. MRI Safety – Level 1: Staff and Facility Personnel reviews the most common safety hazards associated with an MR scanner. The strong magnetic field can pose serious dangers if those who work near the MR suite do not follow proper safety precautions. Facility personnel that are not formally trained in a Radiology program must be aware of correct procedures for routine and emergency situations at MR facilities and hospitals. Produced with the help of leaders in the MR Safety field, the film and support materials review the hazards associated with the magnetic field and teaches how to work safely within an MR facility or hospital.
About Falck Alford Productions
Falck Alford Productions is a division of Falck Alford, one of the leading providers of safety training to the Gulf South and surrounding areas. We combine our extensive film and media production experience with the knowledge and expertise of our professionals to create unique and effective training tools and safety videos.
Our films combine high-quality visuals with clear, concise explanations of core safety topics to enhance your company's training program. We offer optional training kits for many of our titles that, when combined with the film, can help in creating a customized, instructor-led safety course. Our online Computer Based Training (CBTs) provide an efficient alternative for safety training that can help your company meet and maintain SEMS training requirements, including any custom needs.
For quality films and computer-based courses, Falck Productions is your safety and training media solution. Our website is available at http://www.falckproductions.com.