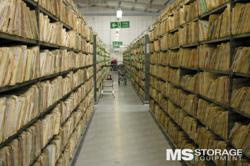 I am delighted to say everything was completed on-time and on-budget
(PRWEB UK) 25 March 2013
MS Storage, the Cheshire-based shelving and mobile storage specialists, have announced the win of a combined file transfer and file storage tender for Stepping Hill Hospital, Stockport. The task has already been successfully completed, with MS Storage facilitating the safe, secure transfer of sensitive patient information and also managing its storage in bespoke mobile shelving and robust steel shelving units.
The process involved the careful amalgamation of medical record storage from three separate locations in the hospital into one central records area. These records are now housed in 344 bays of new shelving which MS Storage have both supplied and installed.
Commenting on the complexity of project managing a job of this size, Ben Simpkin, Managing Director of MS Storage explained "we were always conscious we were in a busy, working hospital. That's why we carefully managed the project every step of the way to minimise disruption either on-site or to on-going data retrieval.
Our team of experts carried out a comprehensive full site survey, followed by numerous site visits to ensure installation was always bang on schedule. And we also had regular contact with the hospital administrators to make sure they were happy on a day-by-day basis. I am delighted to say everything was completed on-time and on-budget."
MS Storage is a family-owned company specialising in providing individual, high quality shelving and mobile storage solutions. They offer a complete 'end-to-end' service from blueprint to installation and their high profile clients – from both public and private sector – include BBC, Selfridges, the Police and the MOD.