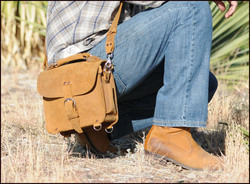 Los Angeles, CA (PRWEB) May 25, 2008
Each celebrity presenter and performer at the MTV Movie Awards will receive a Saddleback Leather Co. piece. The bag was chosen over the many possibilities for gifts by Branded Entertainment Marketing, an independent firm. In order to be chosen, a piece must be valued at a minimum of $250, be desirable to the stars, be of the highest quality and also be approved by MTV Networks.
The 2008 MTV Movie Award's much anticipated list of presenters has been partially revealed. It will be hosted by Mike Myers with presenters Ben Stiller, Will Ferrell, Liv Tyler, Dwayne "The Rock" Johnson, Lindsay Lohan, Ed Norton, Sarah Jessica Parker, Brendan Fraser, Anne Hathaway, Jack Black, Steve Carell, Robert Downey Jr., Seth Rogen, Megan Fox, Jennifer Hudson, Mark Wahlberg, James Franco, Rumer Willis and Danny McBride. with more names to come. There will also be performances by Coldplay and the Pussycat Dolls. The revealing of the contents of the much anticipated gift package is an event unto itself and receives a tremendous amount of coverage worldwide.
Their bag was a natural inclusion into the gift package because of its versatility, being built for both men and women, its high quality and classic style. Each is individually handmade with thick full grain waterproof boot leather, heavy duty thread and has riveted corners. There are no zippers, snaps or any other breakable parts; only buckles.
Saddleback Leather Co. has been recognized in 2008 for their originality in design and quality construction in various avenues. Their leather bags were chosen for the 2008 CMT Music Awards, used as corporate gifts by Toyota Motor Corporation and were also the centerpiece of the ABC/ESPN 2008 Introduction to the Tournament of Roses Parade.
Saddleback Leather is a family run company based out of San Antonio, Texas. Along with this satchel, they also design backpacks, briefcases, suitcases, messenger bags, duffel/overnight bags and pouches all of the same leather and durable construction.
For more information on any of Saddleback Leather Co. products or for other general information about the company, contact President Dave Munson at http://www.saddlebackleather.com.
# # #