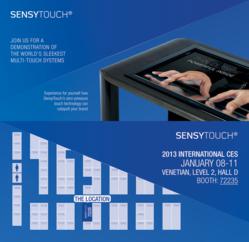 Engaging the audience, whatever the business or industry, is what SensyTouch is all about.

Suda Sampath, President & CEO
Irvine, CA (PRWEB) November 27, 2012
SensyTouch versatile multi-touch solutions will be on display during its first showing at 2013 CES, the largest annual innovation event for technology and consumer products. The SensyTouch wall mount as well as its table systems are custom designed for many industry applications, including retail, hospitality, shopping malls and automotive showrooms.
"The 32 simultaneous, zero-pressure touch, multi-touch systems are the trend for companies that want to change the way they do business," said Suda Sampath, President and CEO of the Irvine, Calif.-headquartered company. "The multi-touch systems can also transition into the high-end consumer marketplace, which shows the versatility of the SensyTouch product."
The SensyTouch sleek design is among the thinnest and most elegant in the industry. The 32 simultaneous zero-pressure touches combined with the third generation Intel i7 empower and engage an audience whether it's business presentations or shoppers searching for a specialty store in a mall. Information is there at a touch.
"Interaction is a powerful tool, one that SensyTouch's wall mount or table top multi-touch screen provides," said Sampath, "We offer a complete package from design to technical support. The end-to-end value becomes evident when the customer experiences SensyTouch in action."
Among industry applications that are available and customized from SensyTouch are:

Automotive Showroom: features 360 degree vehicle views, interchangeable options and accessories, vehicle tours, interactive digital brochures and more
Hospitality: an interactive guest experience provides easy and quick information about local attractions, resort amenities, restaurants, maps, menus, coupons and more; use of the touch screen can make a stay even more rewarding
Shopping Malls: retail thrives on interaction; when a SensyTouch screen is strategically installed, the customer experience is enhanced through use of interactive maps, mall and store information, reservations, events and more
To make an appointment to demo this application in the SensyTouch showroom, please contact us at +1 (877) 396-9676
SensyTouch develops, engineers and markets a premium range of multi-touch systems, featuring slender, elegant design, responsive, fast interaction for a limitless number of industries that want to improve the way they do business.