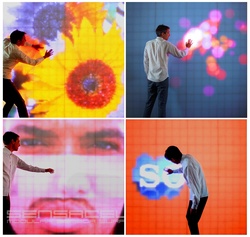 "Human scale interactivity made easy"
Brooklyn, NY (PRWEB) November 3, 2009
The Sensacell system is a unique combination of energy efficient LED lighting technology and advanced touchless proximity sensors engineered for elegant integration with architecture. Sensacell's compatibility with a broad range of architectural materials enables unlimited application possibilities; the sensors can detect persons and objects straight through surface materials allowing everyday surfaces to become dynamically interactive in a manner that transcends the usual conceptions of interactive lighting technology. The system's modular architecture enables designers to fluidly apply light, media, and interactivity as architectural concepts by embedding Sensacell modules in floors, walls, stairs- even furniture, creating rich interactive environments that thrill the senses while delivering ideas and information.
Computers and architecture are on a collision course- as evidenced by the recent excitement surrounding large multi-touch and multi-user interactive surfaces. Current trends highlight the relentless march away from the desktop-centric model, towards the inevitable concept of ubiquitous computing where our everyday environment becomes the computer interface and technology becomes an embedded and almost invisible part of the landscape.
Sensacell Corporation has strategically positioned itself as the leader in the arena of architectural human-scale interface technology, developing multi-touch and multi-user interactive surfaces engineered to address the demands of 21st century architecture.
Sensacell's new offering is the only system currently on the market that offers true architectural compatibility; our modular flat-panel system can address large scale installations without compromise, and is rugged and reliable enough to withstand the rigors of public installations.
###