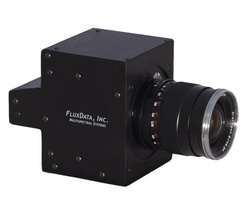 Rochester, NY (PRWEB) January 6, 2010
FluxData, Inc. today adds GigE connectivity option to its 3CCD camera product line.
FluxData,Inc., a leader in multispectral imaging, has recognized customer demand for this new emerging standard in camera connectivity. The FluxData FD-1665 3CCD multispectral camera line now offers GigE connectivity in the same compact form factor as their Firewire cameras. GigE is capable of supporting long cable lengths up to 100 meters and high data transfer rates up to 1000 Mbits/s in addition to being standard interface on today's computers.
The line of cameras is currently built around the robust FD-1665 optical prism engine, which offers reduced spherical and chromatic aberration while allowing the use of standard 35mm SLR F-mount or T-mount lenses. The 3 CCD FD-1665 GigE camera is a small size form factor of 4.8 x 3.5 x 4.4 inches (LxWxH). The modular approach to the camera design encompasses 12 CCD sensor options with varying frame rates (up to 120 fps), and resolutions (up to 1626x1236), all with Firewire or GigE connectivity. In addition, customers can choose between polarization, multispectral, and high dynamic range (HDR) filtering options based on their specific application.
The addition of the GigE option makes it well suited for a variety of application areas including machine vision, surveillance, and medical imaging, and offers the user the added flexibility of increased remote deployment of the camera from the host computer.
Regardless of application, FluxData, Inc.'s imaging and system integration expertise helps guide customers from camera specification to delivery of the final system. Their staff of imaging experts can help frame the problem, and deliver the best system based on the suite of options.
Pano Spiliotis, CEO of FluxData, Inc. states "The introduction of the FD-1665 GigE 3CCD cameras will provide our customers with a connectivity option for greater distances to remote locations and greater flexibility for their own system integration."
About FluxData, Inc.:
FluxData develops and manufactures multispectral and polarimetric imaging systems and solutions for a wide range of applications. FluxData, Inc.'s imaging and system integration expertise helps guide customers from camera specification to delivery of the final system. Their staff of imaging experts works with customers to frame the problem, and deliver an optimized system based on a broad suite of options. Every product comes with FluxData's commitment to first-rate customer support. For more information, please visit http://www.fluxdata.com.
Contact: Pano Spiliotis, (800) 425-0176
###