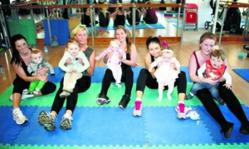 (PRWEB UK) 19 March 2013
A new exercise class specifically for mother and baby has been set up in Scotland. Designed to get mums back in to fitness it offers the element of convenience as there is need to find a babysitter in order to attend. Another positive aspect is that the class promotes the notion of a healthy lifestyle to children from a really young age. Experts believe this gives hope that they will pursue and more active healthy lifestyle when they become adults. This is particularly important as it is expected that by 2020, half of the UK population will be obese adding to the strain on the NHS.
Lucia Templeman, mother of two and Sales Associate at Gymkit UK said "My fitness levels were really good before I had my two children. Being a new mum is difficult enough as it is and I didn't feel like I had the confidence or the energy to go to the gym. These types of classes are a really good idea; they bring new mums together as well as ensuring that they keep exercising." Gymkit UK is a company based near Peterborough that sells used gym equipment to the general public. They are particularly in favour of exercise regimes that are convenient for the individual and they help people by providing affordable gym equipment that can be used in the home environment. Lucia went on to say, "I think one of the main issues for new mums is confidence as having a baby changes your body in a lot of ways and it takes some time to get used to. It could therefore be even better to install some gym equipment in the home so that they can exercise when is convenient without any added pressure from others".
Gymkit UK was founded in 2001 by Howard Braband who wanted to bring commercial gym equipment to the market at affordable prices. Since then, the company has been extremely successful and boasts of its own showroom and warehouse located in Whittlesey, Cambridgeshire. With over 5000 items in stock, the company sells various types of gym equipment including treadmills, cross trainers, exercise bikes and rowing machines and can provide expert advice to go with it. The gym equipment is typically sourced from health clubs that have sold it due to refurbishment. As health clubs and gyms are continually refurbishing, the gym equipment tends to always be less than 2-3 years old and as is result is in fantastic condition. Nonetheless, the fully qualified service engineers at Gymkit UK thoroughly check all gym apparatus to ensure that is it fully tested and working. Due to their success, Gymkit UK is now also the sole UK distributer for Teeter Inversion products which are mainly used the back therapy and are increasingly popular.
If you are an individual or business looking to buy or sell gym equipment please click here to visit the Gymkit UK website or call on 0808 1493222 Monday-Friday 8am-6pm.