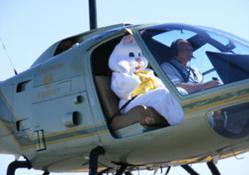 The event will run from 10:30 a.m. to 12:30 p.m. Saturday, March 30, at the Hiller Aviation Museum
San Carlos, CA (PRWEB) March 22, 2013
Come celebrate Easter at the Hiller Aviation Museum with the Easter Bunny as he will arrive by private helicopter at the museum at 10:30 a.m. Saturday, March 30.
Kids can get their picture taken with the Easter Bunny and receive an Easter egg. There will also be face painting, slides and jumps for the kids. The event will run from 10:30 a.m. to 12:30 p.m. Saturday, March 30, at the Hiller Aviation Museum, located at 601 Skyway Road, San Carlos.
The event, which is included with museum admission, will take place rain or shine. The cost is $12 for adults, $8 for kids ages 5-17 and seniors 65 or older. Kids four years old or younger get in free. The museum's popular European Train Model display will also be open for everyone to enjoy.
The Hiller Aviation Museum's mission is to stimulate and engage communities to discover the past, celebrate the present and imagine the future of aviation with a focus on unique technological innovations and innovators. The Easter Bunny's visit is one of several family activities and educational events the history museum offers for visitors in Redwood City and San Mateo.
Dedicated to the dreams of flight, the museum exhibits chronicle over a century of aviation history and provide a glimpse into air transportation's future. Inside the museum, two large display areas contain the majority of the exhibits. Vintage and futuristic aircraft, prototypes, photographic displays, and models are on display.
The Hiller Aviation Museum's 53,000 square-foot complex consists of a main exhibit hall, an entrance atrium, 35-seat Theater, two 50-seat conference centers, gift store/restoration shop/and kitchen facilities for catered events. The museum was founded in June 1998 by helicopter pioneer Stanley Hiller Jr. For more information, visit http://www.hiller.org.
About the company:
The Hiller Aviation Museum, a non-profit organization, brings together historical, educational and technological resources to create programs which increase public understanding of science and aviation and inspire new opportunities.
The Hiller Aviation Institute is dedicated to the dreams of flight – looking back into aviation's history while exploring its future. The experience is educational and entertaining casting new light onto the technical innovations.