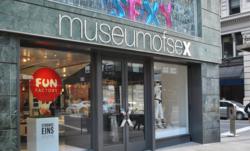 87% of women who have used a vibrator prefer a Pulsator after trying one
Los Angeles, CA (PRWEB) February 14, 2013
On Valentine's Day, TV show The Daily Buzz will air the story of Stronic Eins at the Museum of Sex Shop. For the month of February, Daniel Basiletti, Director of Product Development and Retail at the Museum (aka. MoSEX) is teaming up with adult toy industry leader Fun Factory to turn the Shop at the Museum into a space dedicated to a revolutionary new piece of pleasure technology from Germany called Stronic Eins. Basiletti says this "incredible new toy will change the industry forever."
This pulsating novelty uses magnetic fields to induce the strongest orgasms ever known, as attested by 87% who tried the Stronic Eins during an experiment led by Fun Factory last Winter. Dirk Bauer, Founder and President of the company says this patented technology took over 18 months to develop. During an interview with the press at the Museum, Bauer held the pulsating toy and jokingly explained: "this is not a technical device, it's a living organism," as the device jumped out of his hands.
Emilie Rosanvallon, Marketing Director at Fun Factory USA reports: "when activated and placed on flat a surface, the toy travels across that surface. During the launch party at the Museum, guests had fun organizing a race between 2 Stronics on an 18 foot counter. We shot a video of it."
According to a survey led by Fun Factory in November of 2012, 87% of women who have used a vibrator prefer a pulsator after trying one. A pulsator is a new kind of adult toy that does not use vibrations but instead converts magnetic energy into real thrust motions. This type of stimulation is proven to satisfy women more intensely than the tingling sensation of a vibrating motor. German engineers at Fun Factory , who have manufactured toys made of medical grade silicone since 1996, believe that this new invention is the dawn of the next era in the world of pleasure toys.
Frederic Walme, CEO of Fun Factory USA says: "there are thousands of vibrators to choose from on the global market today. 100% of these vibrators use the same basic motor and over 95% of them are manufactured in China. For the last 70 years, women shopping for a portable pleasure device have had two choices: a vibrators or a simple non-powered phallic shape. Today, women finally enjoy a third option: pulsators, a technology developed by Fun Factory, with a world wide patent pending." Walme adds "we are hopeful that the word 'pulsator' will eventually make its way into the dictionary. "
The Museum's Shop launched Fun Factory's Stronic Eins on February 1st. The Valentine season was kicked off with a large private party to celebrate the birth of pulsators and advancement in the field of sexual technology. Pictures of the party are available here.
ABOUT FUN FACTORY:
Fun Factory was founded in 1996 in Bremen by Dirk Bauer and Michael Pahl. The company specializes in manufacturing aesthetic and trendy erotic toys "MADE IN GERMANY". It's Europe's largest manufacturer of silicone toys. In 2003, FUN FACTORY opened its first subsidiary in USA, followed by Great Britain in 2005. Today, the company has over 120 employees world wide.