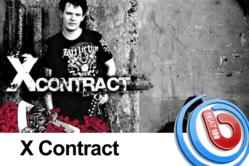 The band received two BEAT100 Gold Awards for their impressive song writing skills and their professional, high quality video
(PRWEB) September 07, 2012
The Denmark based rock band, X Contract, managed to top the BEAT100 Music Video Chart last week with their moving, original song, "How Would I". The band was founded and created by lead singer, Dennis Pedersen, who is also X Contract's primary producer. The band also consists of lead guitarist and talented songwriter, Lars Klit, and skilled drummer, Bjørn Wind Andersen. X Contract was formed back in 2007 by Pedersen and their sound is constantly growing and maturing with every rehearsal, recording and performance.
The winning video only just missed third place last week to young singer/songwriter Ben Bennett, but this week X Contract topped the chart with a whopping 5,198 views and 639 votes. The band received two BEAT100 Gold Music Awards for their impressive song writing skills and their professional, high quality music video. The video features famous Danish actor, Anders W. Berthelsen, and is claimed to be their biggest and best production so far. The emotional tune tugs on viewers heart strings with the assistance of the dramatic storyline displayed in the video. Berthelsen is shown sitting in a still car as the camera flicks between images of a battered woman and a small, lonely child. When Anders takes the child out to the woods holding a gun, the chilling lyrics and powerful vocals create a sense of tension as the viewers watch intensely for his next move. As he is about to shoot the child, a sense of relief floods viewers minds as he drops the gun and holds the child intensely instead. We almost begin to forgive Berthelsen for whatever he may have done, but the storyline holds a sudden twist at the end as the battered woman stands behind him with the gun, ultimately killing the sorrowful man. The well thought out video, beautiful melodies and powerful instruments displays a style of music that is not commonly seen anymore, and should be recommended to anyone who hasn't already seen it.
Rock appears to have taken over the BEAT100 Music Video Chart this week as lead singer, Geoff Sewell, places in second with his band Ricochet and their single, "Midas Light". The beginning of the song immediately captures listener's attention with an intense and impressive guitar solo, accompanied by several video effects. When the vocals enter, we see a 5 second countdown before the video changes direction to Ricochet performing to a live audience. The band received 2,174 views and 556 votes after placing 5th the previous week, and received a BEAT100 Gold Award for their well-written original song.
Although the band formed in 1980, after years of success the band decided to go their separate ways, yet reformed in 2000. They went on to receive a publishing deal in 2010 and have been working hard on their music ever since. Sewell's achievements include retaining a Top 20 hit in Japan and he has also supported many successful artists, such as, Bryan Ferry, Paul Young and Al Green. Sewell's talents do not end in music and he is now also an artist, graphic designer, video editor and image manipulator.
The genre of rock did not cease to be maintained in third place. However, the Bad Boys Band differs slightly from X Contract and Ricochet as the band consists of six kids ranging from the ages of 8-13! Despite their ages, the young musicians did not cease to wow viewers with 8-year-old Mark's piano skills, or 11-year-old Aljaz's extensive drumming abilities. The Bad Boys Band was formed at a music school based in Slovenia and the youngsters are constantly promoting their music and talents across the globe through BEAT100 and YouTube.
The band received 2,330 views and 560 votes from both their existing and new fans on BEAT100. The video displays the kids playing at a school concert and also includes clips of them having fun and preparing for the show. They managed to receive a BEAT100 Bronze Music Video Award for the effort they put into making a video and for displaying their fun and interesting personalities. These youngsters make being in a band fun to say the least, and their talents are at a surprisingly mature level for musicians of such a young age.
By Kelly Donovan