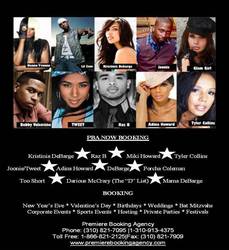 "PBA is the best in music booking"
Venice, CA (PRWEB) January 4, 2011
Premiere Booking Agency is thrilled to have Bristish R & B/Soul sensation Omar who is best known for his two major hit songs, "There's Nothing Like This and Be Thankful". He has performed with some of the biggest artists in the music industry including Stevie Wonder, Jill Scott, Erykah Badu, Angie Stone and Eric Roberson.
PBA has recently added a Celebrity Booking category. We are proud to book the beautiful and talented actress/model/singer KD Aubert who appeared in the movie Soul Plane and five other movies. PBA is also booking Actress Pamela Bach Hasslehoff, the ex wife of David Hasslehoff; Antonie Dotson; as well as Erica Eggum and Kayleigh Scott of the Bad Girls Club Miami.
The announcement of these new additions added to the current lineup launches Premiere Booking Agency Website] into 2011. All PBA clients are all available for interviews and bookings.
To view the full roster Click on the Premiere Booking Agency extended Press Release file.
###