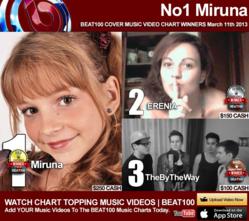 Miruna's participation on the BEAT100 network has brought more confidence to her and she has also made many, many friends from over the world. It means the world to her.
(PRWEB) March 14, 2013
First place and the winner of $250 in this week's BEAT100 Covers Music Video Chart has been won by a young singer from Romania, Miruna Popescu, for her rendition of, "Dear Mama", by the all-girl Romanian rock band, Blaxy Girl. The song was a hit in Romania and also a favourite amongst Eurovision 2009 voters, finishing in a tie for second place. Miruna, aged just 11, uploaded her own version to the BEAT100 Network and has had a staggering response from other users of the popular music video network, receiving 3,240 votes overall for her entry.
Speaking to BEAT100 News, her father said, "Last year, Miruna started performing in national music contests and she has won many awards. The most important award was the 'Dinu Maxer Trophy' because Dinu is a well-known singer and composer in Romania. This year, she performed for the first time on an international contest called, Volare, and won second place. She was very happy. Miruna has spent a great deal of time on TV, as well. She has done many shows as a solo artist. She was for a period presenter for a children's TV Show. On one of these shows she had as a guest, an actor from Hollywood, who featured in a Hannah Montana film." He finally added, "She loves to be on stage and to be appreciated by the public. She also enjoys playing the guitar and the piano. Her participation on the BEAT100 music video network has brought more confidence to her and she has also made many, many friends from over the world. It means the world to her."
Fans of stage musicals voted in the thousands for Italian singer, Erenia. She took the second place prize of $150 in the BEAT100 Covers Music Video Charts for her compilation of classic 'Musicals', receiving 3,204 votes and just narrowly missing out on first place. Erenia has quickly become a favourite to many BEAT100 users around the world with almost 12,000 views overall.
After studying at the European Center of Toscolano Music University, Erenia Russo then went on to perform in the final of the Premio Mia Martini Festival in Italy, a very prestigious event in memory of famous Italian singer Mia Martini. "Since I was a child, I have always shown a certain inclination about music and singing and a natural skill to ionize and entertain," explained Erenia. "Singing has always been one of the more important things of my life. When I do it, it seems to me as being in another dimension, where sadness, worries, frustrations and even the evil do not exist any longer, at least for a few minutes. I always hope that my voice can produce the same effect on the others too and I would like have more occasions to experience it very soon." Erenia continued: "I studied opera music, jazz music, pop music and I play the piano too. After the experience of several music contests and festivals since 2010, I'm currently involved in several music projects and I'm very busy now in promoting myself in my official and artistic pages. Moreover though, thanks to BEAT100 and all who voted for me. I've met many artists and musicians who have become my dear friends as well."
Third place winners and pop group, By The Way, have certainly captured the hearts and minds of younger BEAT100 users with their own version of One Direction's worldwide hit record, written by Ed Sheeran, 'Little Things', receiving almost 1,500 BEAT100 votes. The four-piece boy band are known throughout their homeland after featuring on Hungary's version of the X Factor after, in identical fashion to the formation of One Direction, judges created one group from different participating groups. Oli and Seekie originally from By The Way, Ya Ou from Wonderfools and Benny, a single participant on the show all joined forces to become the new By The Way. In the video, which is on their BEAT100 page, the boys give their idols quite a run for their money too, with great vocals and a well produced studio-set video that does them plenty of justice and the boys are determined to take things further to get to the top.
"We all applied to the Hungarian X Factor last year and that's where we met each other. We all got to the Judges House, except Benny," explained the boys to BEAT100 News.
"After we got eliminated we decided not to give up, but we knew that we have to change so we asked Benny to join us. We have just written our first original song, which we are hoping to get on one of the biggest Hungarian radio stations, called 'Scream'. We have lots of videos also on YouTube and our BEAT100 page." The boys, thrilled about their third place win, went on to expand on their BEAT100 experience: "Joining BEAT100 has been good to explore so many talented musicians on the network. We've made new friends from all around the world and it was a good feeling to get very kind and supporting comments from so many of them!"
See more videos from all three of this week's BEAT100 Cover Music Video Charts winners by visiting their profiles at BEAT100.com.