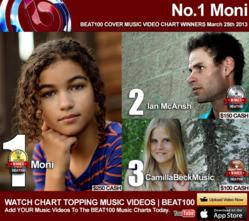 "Placing third on BEAT100 definitely means so much to me because I love to know that people like what I do," says Camilla.
(PRWEB) March 28, 2013
The winners of the BEAT100 Cover Music Video Chart for March 25th 2013 are proudly awarded to (1st) Moni, (2nd) Ian McAnsh, and (3rd) Camilla Beck for achieving the top votes for their cover song performance. These three singers demonstrated their talent and impressed BEAT100 users this month, achieving cash prizes and much publicity for their efforts.
Accomplishing an impressive first place this month, 11-year-old singer, actress, and model, Moni, achieved over 2,000 votes and over 7,000 views from BEAT100 users for her beautiful and live rendition of Norah Jones' 'Don't Know Why', along with a BEAT100 Silver Performance Award. Even at such a young age, the California-based musician has discovered that music is the focus of her pursuits. "I have always loved to entertain people and I just love singing," says Moni, "I wish I could sing ALL the time, even when just doing my daily routines."
After performing her first major gigs in Las Vegas at the age of seven, following initial vocal training at an even younger age, Moni is in the process of developing her own unique style described by many as "organic, soulful, and mesmerizing." With a recent performance singing the National Anthem for a Sandy Benefit and concerts at many major national venues, Moni is certain to continue onto a successful music career as she recently secured first place at the 2012 Simi Valley Cajun and Blues Festival in addition to achieving much recognition on BEAT100. "I have had an amazing experience since I joined BEAT100," says Moni. "I've made friends from all over the world, and it's really interesting that there is so much talent!"
Second place in the BEAT100 Cover Music Video Chart this week, Canadian singer-songwriter, Ian McAnsh, provided BEAT100 users with a cover of 'Die Young' by Ke$ha, along with an accompanying original music video. Ian received a BEAT100 Gold Performance Award for his impressive cover, along with over 2,000 votes and 9,000 views from fans. Ian also recently released his debut album, 'Back 2 da Brix', now available on iTunes and containing 10 original tracks. With influences from Sublime to Canibus, Ian's album features a range of pop vocals and synths in 'Don't Stop' to rap and a hip-hop vibe in 'The Journey'. Ian's music video for 'Don't Stop' has just been released with more videos on the way soon.
As he begins a tour promoting his album throughout Ontario, Ian says, "I love the way you can talk to people through music. I feel like I've got a story people want to hear and I look forward to more fans, songs, and success with music." Ian uses BEAT100 as a top platform to promote his music. "My experience on BEAT100 has been amazing," he says. "All the support from fellow talented artists is very encouraging."
16-year-old singer, Camilla Beck, achieved third place this week in the BEAT100 Cover Music Video Chart, along with a BEAT100 Bronze Performance Award, for her cover of, 'Safe and Sound', by Taylor Swift, featuring The Civil Wars. "I've been singing my whole life," says Camilla, "but just recently I found out about the idea to post [my music] on YouTube." After recording her cover of 'Safe and Sound' and filming and editing the video, Camilla says she was thrilled to enter her work into the BEAT100 Video Chart and achieve third place. "Placing third on BEAT100 definitely means so much to me because I love to know that people like what I do," she says.
Camilla is grateful for her father, who inspires her to follow her dreams and pursue her passion in music, as well as her aunt, who has helped her learn guitar. "My ultimate goal for the future is to do YouTube covers, collaborate, and meet new people with my music," says Camilla. As she continues to pursue her love for music, Camilla aspires to release her own album someday and will continue to post music videos, like her Taylor Swift cover, on BEAT100 in the future. "BEAT100 has helped me with getting to know a lot of awesome people and spread my music out to a whole other group of people, and that means so much," she says.
Congratulations again to these three outstanding up-and-coming musicians and winners of the March 25, 2013 BEAT100 Cover Video Music Chart. Sign up to BEAT100 today, create a music video, enter it into the BEAT100 Original or Cover Music Video Chart, and encourage friends and fans to vote for a chance to win cash prizes and international recognition!
BE SEEN – BE HEARD – BE REWARDED
By Dylan JK Vogt