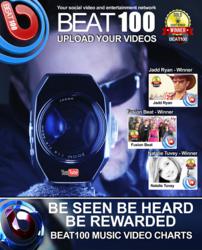 Watch award winning Music Videos on BEAT100, Acoustic, Blues, Country, Dub step, Hip Hop, Indie, Jazz, Metal, Pop, Rap, Rock and more.
(PRWEB) November 16, 2012
The new BEAT100 music video chart runs each fortnight from Midnight (GMT) Monday to 23:59:59 (GMT) for 14 days ending on a Sunday.
Even though the music charts are compiled every 14 days, when users enter a video it stays in the chart for a full month. Music chart winners will be excited to hear, all BEAT100 chart winners will have their video published to the world's press and entertainment industry via its regular press releases. BEAT100 is dedicated to helping unsigned bands and musicians, providing both support and exposure worldwide! BEAT100 distribute press to all major search engines such as Google, Yahoo, Bing, to all major online music, news, and entertainment sites and more.
BEAT100 is committed to making its music video chart help musicians find more exposure, and its prizes and incentives are exclusive to its network . No other music video network offers cash prizes for talent. Bands can upload and share videos for your chance to win and become part of BEAT100's award winning community.