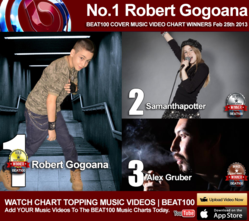 I have seen so many different styles of music and video ideas that I never would have thought of. I never expected such a warm welcome here and to be supported by so many others on the site!
(PRWEB) February 27, 2013
The BEAT100 Covers Music Chart's first place winner, Robert Gogoana, has scooped up the top prize of $250 for his fun-filled version of the 2009 debut Justin Bieber hit 'One Time'. The talented youngster from Bucharest in Romania has proved a massive hit amongst BEAT100 users and received well over 2,000 votes for his efforts. After starting to sing at the age of just 5 years old, Robert is now a student at National College of Music Dinu Lipatti, studying canto, classical and electric guitar.
The delighted young singer told BEAT100: "I'm just a simple kid trying to make his own way in life. My influences are Justin Bieber and Jon Bon Jovi and my favourite artist is Adam Lambert." Robert recently attended and sang on a national television programme, "Children's Television", which he believes is his biggest achievement, along with winning the BEAT100 Covers Music Chart. "I hope one day to be a great singer and songwriter, but until then I have to prepare", says Robert. "BEAT100 has been such an enjoyable experience."
Second place winner in this weeks BEAT100 Covers Music Chart was picked up by Samantha Potter, from Arizona, USA, with her brilliant video of her own rendition of the Justin Bieber/Nicki Minaj collaboration 'Beauty And A Beat' from Bieber's 2012 album 'Believe'. The 10-year-old singer, who has already released two of her own self-penned songs on iTunes, has big ambitions and has had thousands of BEAT100 users voting for her on the network after impressing them with her brilliant vocal display. "BEAT100 has been a great experience for me and I have met some artists from all around the world," says Samantha. "I have seen so many different styles of music and video ideas that I never would have thought of. I never expected such a warm welcome here and to be supported by so many others on the site!"
"I was always singing and my mom says when I was three I could sing and knew whole songs," explained Samantha. "As I got older and watched some of my favorite singers on YouTube, Disney Channel and Country Music Television, I just knew that was what I wanted to do." The Taylor Swift influenced singer plans to continue with her music and is aiming high in the world of music, thanks to the support of her parents. "I did my first live shows with some professional musician friends of mine and ever since then I was hooked! I won a local competition on a local radio station and placing here on the BEAT100 network is pretty cool!"
The third place prize of $100 went to Alex Gruber aka Alec Groover, from Bavaria, Germany, for his brilliant rendition of the classic 'The Letter' by Wayne Carson Thompson, which was also a major 1967 US hit by The Box Tops, reaching number one in the Billboard Charts. Performed with style and conviction by BEAT100 artist Alex, his version has now been rewarded with an impressive third place finish in this week's BEAT100 Covers Music Charts after receiving over 2000 votes from BEAT100 users worldwide.
"I decided to try putting my music on BEAT100 after a friend told me about the network and I soon found out that there are so many great musicians and videos on the site! I've already met many new friends, have visited some of them and have even done a collab!" says Alex, the Rascall Flatts and Keith Urban inspired singer. "I have around two hundred songs in my repertoire but I try not to do them too much like the original, and want to ive every song my own touch!" explains Alex.
Discover more artists on BEAT100 by browsing the video network and charts, checking out past winners and flicking through the brand-new Ultimate Musician page.