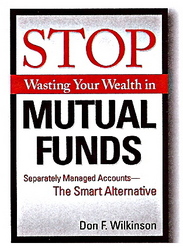 While an investor must accept his performance losses, excess fees and can't avoid paying capital gains taxes to Uncle Sam in 2008
Newport Beach, CA (PRWEB) January 28, 2009
The huge performance losses incurred by 2008 mutual fund investors has been intensified by a little known inclusion in most fund companies' prospectus keeping investors 100% invested in stocks.
"Fund companies write into their prospectus in complicated legalese that a particular fund will remain fully 100% invested in equities," says Don Wilkinson, wealth manager and author of the book, "Stop Wasting Your Wealth in Mutual Funds--Separate Managed Accounts: The Smart Alternative". "This means only equities will be considered for investment--no diversification that bonds, for instance, could offer. So in the 2008 down market, the fund managers had no flexibility or inclination to help investors."
The catalyst, says Wilkinson, was the 2008 Market including mutual funds, which logged its worst performance since Herbert Hoover was president. The DOW was down 36.2 % the biggest drop since l931. During the height of the Great Depression stocks were reeling at 40.9%.
Mutual funds, specifically, owned by 94 million Americans--half of the country's households, have been hit hardest, as poor performance returns were just a part of the equation. In addition to disastrous returns, high capital gains tax distributions have been or will be mailed soon to a great majority of mutual fund investors. The "January Surprise" has occurred routinely ever year for taxable mutual fund investors since the 2000-2002 downturn.
"It's absurd the whole idea of negative returns and paying taxes," remarked Wilkinson whose best selling book explains why mutual funds investors have to pay taxes in down market years.
"Don't blame it on your tax professional," says Wilkinson. "Mutual fund companies with their mandates of being fully 100% invested in equities create the environment which causes big losses in down markets."
Wilkinson, based with his own firm, DFW & Associates in Newport Beach, CA, has urged mutual fund investors to stop the mutual fund bleeding since 2006. His widely acclaimed book, "Stop Wasting Your Wealth in Mutual Funds…" has been endorsed by such financial icons as Ken Fisher, Forbes Magazine columnist and best selling financial author.
A better wealth building strategy is Separate Managed Accounts (SMAs) that Wilkinson endorses in his book. This strategy has professional money managers performing "tax harvesting techniques" all year long and utilizing strategies such as Inverted Exchange Traded Funds (ETFs) which move opposite of down market trends to insure better returns and reduced taxes. "Managed accounts set record returns in 2008 with money managers using these techniques which mutual funds don't offer," said Wilkinson.
Thus, many mutual fund owners will receive a triple whammy for the 2008 tax year: gruesome performance as much as 40% performance losses and capital gains taxes as much as 15% for 2008 -- scheduled to go up to 20% in 2010.
The third element of the whammy triad is the hidden trading costs, bloated commission structures, sales charges both seen and unseen, and pumped-up expense rations all driving up profitability for the fund companies at the expense of individual investors. As Ken Fisher mentioned in his monthly Forbes column endorsing "Stop Wasting Wealth in Mutual Funds: "I don't like funds. They lag market indexes, nick you with fees and run up unnecessary tax bills."
This year's insult to injury has caused many savvier investors to abandon mutual funds in droves. Two thousand and eight has been a record year of investors cashing out their mutual funds. In September, there was $75 billion worth of mutual fund redemptions. Unfortunately, for the buy and hold investors when people sell off funds, managers are forced to sell off positions to cover the requests. This is but another reason that leads to excessive capital gains taxes as detailed in the book.
"While an investor must accept his performance losses, excess fees and can't avoid paying capital gains taxes to Uncle Sam in 2008," wealth manager Wilkinson says, "a great way to decrease one's tax liability, obtain one fee transparency and potentially boost performance for is to get out of mutual funds and into managed accounts."
Thus, many buy and hold mutual fund investors incurring huge mutual funds losses has prompted them presently to take fund assets and plow them into CDs, Exchange Traded Funds (ETFs), index funds, annuities and a new bright star in the alternative investment horizon: the Unified Managed Account (UMA), endorsed by Wilkinson. Similar to other managed account strategies, the UMA rewards the knowledgeable investor with asset customization, professional money management and reduced tax liability.
As the book covers in detail, SMAs and UMAs are asset management building portfolio strategies managed by independent money managers under an asset based fee transparent structure offered by financial advisors and other financial agencies.
The UMA because it fosters simplicity of design, it provides comprehensive investment management in a single account. It removes the need for more than one account (empties the mailbox) and combines all the assets with a single registration.
Best of all, the UMA possessing all the positive aspects of the traditional SMA, can also encompress most other alternative asset management vehicles (e.g.: stocks, bonds, ETFs and more) in a client's portfolio.
Investors can find all the details about UMAs and SMAs in Wilkinson's book: Stop Wasting Your Wealth in Mutual Funds…which can be found on Wilkinson's web site: http://www.wastingwealth.com. For the full text of this article link to the wastingwealth blog.
Visitors to the http://www.wastingweb.com Web site can also obtain a complimentary revealing report entitled, "Building Wealth with Separately Managed Accounts." Wilkinson's book can be ordered by phoning their office direct (800-288-7008) for a reduced rate or on Amazon.com: http://www.amazon.com/Stop-Wasting-WealthMutualFunds/dp/1419520180/ref=sr_1_1?ie=UTF8&s=books&qid=1228399379&sr=8-1.
###