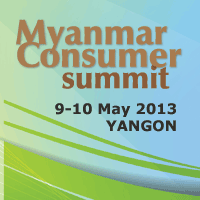 In conjunction with MCS, TNS will publish an executive summary report of it's survey to be given away as complimentary download. Visit MCS website for details on how to reserve a copy, available after 10 April 2013.
Yangon, Myanmar (PRWEB) March 13, 2013
To be held on the 9-10 May 2013, Myanmar Consumer Summit (MCS) organized by CMT in Yangon, is designed to provide investors with insights on Myanmar's consumer behavior, market size plus opportunities as the country shapes up in tandem with middle-income consumerism and sustainable economic growth.
Starting the 2 day meet will be Dr. Maung Aung, Advisor to the Minister of Commerce with an update on import/export regulations and opportunities that foreign companies can tap on. Next is Dr Daw Thida Htin, Deputy Director General of Information and Public Relations Department at Ministry of Information, giving updates on the media & advertising law and its impact on how marketing professionals reach out to the market.
A special highlight at MCS is the session by Regional MD of TNS Indochina, Mr. Ralf Matthaes, where he shares findings from TNS's largest ever consumer based FMCG survey in Myanmar covering over 11,000 interviews in 12 locations nationally. Among others he will provide an overview of consumer demographics, income/savings and expenditure, consumer wants, trends and spending power, pinpointing retail opportunities – all of which offers insightful groundwork vital for business strategies and development. In conjunction with MCS, TNS will publish an executive summary report on the survey to be given away as complimentary download to MCS participants. Look out for further details on this exclusive report, available for download after 10 April 2013, at the official MCS website.
Addressing legal framework in Myanmar's consumer market is Mr. Alessio Polastri, Managing Partner at P&A Asia, while Mr. Jay Cohen, Country Manager of Kelvin Chia Partnership, Cambodia, drills into franchising, trademark protection and infringement issues.
Two sessions delving into sustainable growth will be provided by Mr. Stuart Larkin, Myanmar Specialist in Policy & Investment Research & Advisory as he examines geographical, economy, ethnicity and social class of Myanmar, and Dr. Aung Thura, CEO of Myanmar-based research/consulting firm Thura Swiss with a session on business strategy in frontier market.
Armed with varied segment perspectives, Mr. Jason Copland, GM of TNS Myanmar, and Mr. Tony Picon, Associate Director (Research) at Coliers International, are slated to share the changing retail landscape in Myanmar.
Meanwhile Mr. Graham Lim, Country Manager of F&N will share insights on the challenges of setting up a sales & distribution network in Myanmar and Dr. Sai Sam Htum, President of Loi Hein will discuss strategy in preparing for the influx of foreign brands with building brand loyalty & creative products.
On the branding front, a presentation by Mr. Saw Yan Naing, MD of Myanmar Spa Today Far East Advertising targets effective communication channels and media relevant to Myanmar consumers. Additionally, MCS also features a vital panel session on brand building in emerging markets with branding experts Mr. John Goodman, President (APAC) of Ogilvy & Mather, Ms. Rose Swe, MD of Mango Media, leading retailers City Mart Group, Mr. Soe Moe Thu and Beauty Palace, Ms. Chua Meimei confirmed as panelists.
Visit official website at http://www.cmtevents.com/aboutevent.aspx?ev=130520 for more information or contact Ms. Hafizah at Tel. 65 6346 9218 on any enquiries.