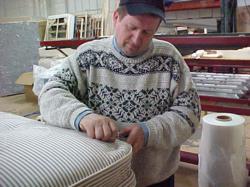 Thank you Thank you Thank you and to everyone at your factory the 2 twin mattresses are fantastic and I cant thank you enough for getting the pieces to us, they went right onto the set and will be seen without sheets on them. You have made my day.
Clark, NJ (PRWEB) March 08, 2012
Unlike the vast majority of mass produced synthetic foam bedding sold today, Orange Mattress Custom Bedding handcrafts their top quality mattresses & box springs using eco-friendly, natural fibers including 100% horse hair, organic cotton, & natural lamb's wool latex. The result: world-class comfort, and the best night's sleep you'll ever have.
"Nobody's ever improved upon the old-fashioned way of making comfortable, high-quality bedding," says President and Owner Mindy Segal. "The Custom Bedding family has been using the same materials and techniques for over 100 years. For making comfortable, durable mattresses and box springs, the old school approach is definitely best."
Orange Mattress Custom Bedding can custom-create a mattress in any size or shape, including their distinctive Round beds. Plus they offer all the traditional sizes: twin, full, queen, king, California king, 3 / 4 size, 2-sided mattresses and more. All custom bedding can be made with any level of firmness the customer desires, from Soft to Super Firm, and everything in-between. One of their most popular items is a cotton, horse hair, latex and lambs wool upholstered innerspring mattress, covered with 100% cotton ticking. It keeps cool in the summertime, and remains warm in the winter.
In addition to superior comfort and customization, Orange Mattress Custom Bedding products last far longer than the mass produced synthetic foam products on the market today. Their 100% horse hair mattress lasts an average of 50 years, even as long as 70! The reason—absolutely no foam. "People don't realize it, but over time, mattresses made with foam begin to break down into a powder," says Segal. "As a result, they lose their shape and begin to sag. That's the reason you can feel the springs when you lie on some older, low-quality mattresses."
Orange Mattress Custom Bedding's brand new, beautiful Clark showroom will have their most popular styles on display for customers to try. Just one minute lying on one of their custom-made, handcrafted mattresses and you'll see for yourself—when it comes to mattress making, nothing beats the old-fashioned way of doing things.
Orange Mattress Custom Bedding has been making high-quality handcrafted bedding since 1902. Using only the best-quality materials and manufacturing techniques, their custom-made mattresses, box springs, pillows and more will provide you with years—or even decades—of restful, peaceful sleep.
For more information on custom-made bedding and mattresses from Orange Mattress Custom Bedding, call 800-761-1100, or on the web at mycustombedding.com. Visit the new Clark showroom is located at 77 Central Avenue in the Target Shopping Center.