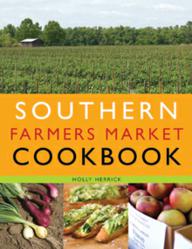 (PRWEB) November 20, 2012
MyEcoGardens.com introduces one of the best cookbooks for garden lovers. What does it mean to shop at a farmer's market or to grow your own vegetables? It means getting the best and eating the best. MyEcoGardens now has the Southern Farmers Market Cookbook to help bring the best to the table.
Although written to reflect the produce and recipes of the American Southeast, this is one of the best cookbooks of its type for any region. From soups, stews, main courses, sides, to deserts, you'll find tasty suggestions using a wide array of fresh produce found in most any market in the US, with a marvelous range of local and ethnic influences. An added bonus is the author's insights on making the most of a grocery shopping experience at a local market.
Inside Cover: "The time to eat healthy and buy locally has arrived. Buying at farmers markets means getting better, fresh-picked produce that leads to amazing home-cooked meals.
'Southern Farmers Market Cookbook' teaches how to enjoy shopping at local markets and gives instruction on what to look for and what's to be expected to make the experience more fulfilling and fun.
More than 75 seasonal recipes show how to take these tasty fresh foods from market to table in mouthwatering ways. Try the crisp Butter Bean and Grape Tomato Brushcetta, the sweet Wild Honey-Glazed Carrots with Mint and Green Onions, the savory Wine-Poached Salmon with Cucumber Crudite Sauce, and the luscious Warm Wild Cherry Carolina Gold Rice Pudding.
While 'Southern Farms Market Cookbook' features produce grown in South Carolina, North Carolina, Georgia, Alabama, Mississippi, Florida, Kentucky, and Tennessee, many of the same foods can be purchased locally in most areas of the country."
MyEcoGardens is a reliable site that provides quality products to your home for your gardening needs. My goal is to provide a wide ranging and unique product line, at the highest level of quality and service available, and to do so as efficiently as possible. Thank You.